Veteran to try hand at first grade
Rejuvenating. Refreshing. Energizing.
Jennifer Leitsch isn't talking about a spa experience or a yoga class - she's describing spending each day with more than 20 young elementary school students.
Leitsch is one of two new first-grade teachers at Lansing Elementary School this year. She is originally from Massachusetts, but her marriage this summer to the deputy inspector general at Fort Leavenworth brought her to the area.
Leitsch has taught second and third grades for six years. She said the younger students were her favorites.
"I love the lens through which they look at life," Leitsch said. "It's a gift to spend the day with them. I love it."
She said the position in Lansing for a first grade teacher was just what she was looking for.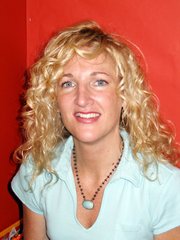 "I always wanted to try first grade, and there was never an opening," she said. When she found out about Lansing's open spot, "I went for it."
However, Leitsch was looking for more than just an open position - she wanted to work in a district that matched the standards of her previous district in Wellesley, Mass., she said. Lansing School District's similar philosophies drew her to LES, she said.
Leitsch said her personal teaching philosophy was to spark curiosity and the love of learning in her students. She said she was glad to have the opportunity to touch students' lives in ways that might impact them later in life.
"That ripple effect through teaching is what draws me to the profession," Leitsch said.