Busy summer prepared Norwood for senior season at Lansing
If you didn't see Dayna Norwood around town much this summer, you're not alone.
The Lansing High senior volleyball player wasn't at home much, but she wasn't off at some sandy beach relaxing, either.
"It was busy," Norwood said with a grin.
Instead of taking it easy, Norwood traveled all over the country playing volleyball this summer. She honed her skills while playing at the national tournament with her club team, the KC Jazz. She flew to San Francisco for the USA Women's Team Camp. She drove to Hutchinson for the Kansas High School Volleyball Showcase.
Then it was back to Lansing just in time for the LHS volleyball camp. Shortly thereafter was the first week of practice.
"I was kind of burned out," she said of the busy schedule, "but I'm excited to get back into school ball."
Norwood has numerous reasons to be excited about her senior season. For one, she said she's looking forward to seeing just how far the Lions can go.
"I think we're going to do really good and I'm hoping that we go to state this year," she said. "I think we have a good chance."
Another reason Norwood is excited about her senior season is because it will give her an opportunity to let the hard work she put in during the summer finally pay off.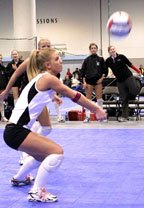 At nationals, Norwood had her first major opportunity to be seen by college coaches. After that, she was one of just 30 players in the country to be invited to the USA camp.
"It was a big opportunity to get to go," she said.
Then it was off to Hutchinson for the Kansas Showcase. About 300 high school juniors and seniors were in attendance, along with college coaches from throughout the Midwest.
"They put us into different teams and we played five games," Norwood said of the Showcase experience. "I played libero the whole time."
Libero - a defense-only position - is relatively new in volleyball. Colleges have used the position for the past few years, but it will be a new addition to Kansas high school volleyball in 2005.
It also is the position that Norwood is being recruited to play in college. Among the schools recruiting Norwood are Friends University in Wichita, Southwestern (Texas) University, Wichita State and Western State in Colorado. All would like to utilize her defensive skills at libero.
Although college coaches want Norwood to play libero, that might not happen this fall at Lansing. In college, libero players are allowed to serve. In high school they are not.
"The only thing with using Dayna as a libero is she just has such an awesome serve," said LHS coach Julie Slater. "I'd hate to lose that."
Norwood's lethal serve - she fired five aces during an 11-serve span at the Class 5A state tournament last year - and her superb athleticism make her an all-around threat that Slater said she planned to utilize this fall.
"Right now, I'm looking at her to play the whole floor because she just has great court sense," Slater said. "I feel like I need to keep her on the court as much as possible because she's such a leader."