Meet the new boss
Elkins excited to lead Lansing High tennis
When Lansing High School announced it was in need of a new girls tennis coach, Rachel Elkins jumped at the opportunity.
It just seemed like a good fit, she said.
"I'm happy to be on board. I think it's a great sport, not only for high school, but it's a sport that you can play for a lifetime," she said. "I've been an emergency substitute teacher in the district. I've been around the girls with my daughter (LHS sophomore Lauren Elkins) being in athletics in the Lansing school system."
"And," Elkins added, "I've been around tennis for a bit."
When Elkins said "a bit," she was understating her involvement in the game. She actually brings a wealth of knowledge of the game to the LHS squad. She was a standout player on her high school team in Trinidad, Colo., and she later played two years of college tennis at New Mexico Highlands University. After that, she played in interservice competitions as a member of the military.
Given her level of playing experience, Elkins said she believed she has a lot to offer the players at LHS. First things first, though. She said her top priority would be on having her athletes succeed in the classroom. Tennis is secondary.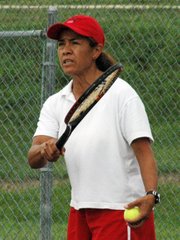 "That's kind of my coaching philosophy up front," she said. "Academics are very, very important, but I'd like to get a combination of both."
Elkins might get that opportunity this fall. She said she was impressed with the 23 players who turned out for tryouts last week. Of that group, nine were returners. Elkins said her first impression was that it was a bright and talented group.
The initial challenge for the first-year head coach has been conducting the tryout process.
"I would just like to establish rosters, focus on our game plans and just get to the first meet," Elkins said. "With such a large group, and having limited facilities (two courts), I'll have to establish a smaller number of players. I have some restrictions on what I can bring to each match with two singles teams and two doubles teams."
Elkins has been running two practice sessions each day in order to maximize playing time for the large number of players. She runs one session before school and the other for two hours after school.
Elkins said she had been pleased with the skill level most of the players have brought to the court so far. Her initial goals have been to refine those skills and help her players develop a power serve.
"No powder puff serves," she said of lobbing the ball over the net to start a point. "We want to establish ourselves where (the other team is) on the defensive from the beginning."
The junior varsity squad will open its season at 8:30 a.m. Wednesday at the Mill Valley Invitational.
The varsity doesn't begin play until Sept. 14 at the Baldwin Invitational.