Generally, school is the last place students want to be on a Friday night. But about 200 students showed up Friday night at Lansing High School for the back-to-school mixer.
The mixer is a fund-raiser for Kays and Kayettes at LHS, groups that are part of the Kansas Association for Youth. Tickets for the event were $5 for the general populace and $4 for Kay or Kayette members.
The groups have held the mixer for probably 10 years, Kayettes sponsor Debra Hutton said. The funds raised are split 50-50 between the Kays and Kayettes and are used for the groups' costs during the year, including a winter party and supplies for activities throughout the year, Kayettes vice president Natalie Hall said. Kayettes put on more than 40 events during the school year, Hutton said. The events are primarily fund-raisers for charitable organizations.
Kays president Shawn Jung said his group held fewer events than the Kayettes do and that most were sports-related, such as a dodgeball tournament and cleaning up after basketball games.
Photo Gallery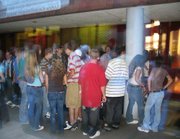 LHS back-to-school mixer
Lansing High School held a back-to-school mixer Friday, Aug. 19, sponsored by the school's Kay and Kayette clubs. About 200 students attended.
Just as the groups split the profits from the mixer, they split the work that goes into it as well. Kayettes take care of decorating, securing the DJ and asking Lansing Police to attend to help prevent any problems, Hall said.
Kays work the concession stand during the dance, which Jung said served nonalcoholic mixed drinks. The Kays also find chaperones and clean up after the event, Jung said.
The back-to-school mixer is often the most popular mixer of the year, Jung said.
"Out of all the mixers, this one is the best," he said.
Hall added, "It's really popular with freshmen."
The student leaders said that in the past, Kays and Kayettes had not been part of many joint ventures beyond the mixer. However, Jung said he hoped that would change this year.