Boosters make tracks to
LHS
The giant paw prints on the streets surrounding Lansing High School evoke a gargantuan lion stalking the school on feet freshly dipped in white paint.
The reality, of course, is that the tracks of Lansing schools' mascot are the work of real humans and require repainting every year to combat the effects of weather and traffic, and, when necessary, repaving.
Seven members of the Lansing Lions Booster Club turned out Sunday evening to repaint the paw prints.
Robyn Dorf, interim club president, and Chris Cristiano began painting with the tracks that lead up East Olive Street from Petro Deli, 601 S. Main St., while other volunteers, including three members of the Hundley family - Tina, Ken and their daughter Keasla - went the opposite direction, from the drive between the football field and Lansing Elementary's parking lot.
Mike Nielsen worked on the tracks on Second Street.
Nielsen said he was helping paint "just to support the cause" as he did at last year's "Paint the Paws."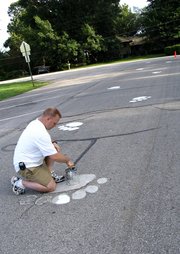 Marlene Rees Graes was in the group of 10 to 12 Booster Club members who painted the first lion tracks in either 1986 or 1987. Ray Graf, then the president of the booster club, thought of the idea, Graes said.
She said the group used a plywood stencil made by maintenance worker Otis Berglund and paint donated by Lansing Correctional Facility, into which volunteers mixed luminescent particles to make the prints visible at night.
Harland Russell, City Council member and class of 1983 LHS graduate recalled that some time after they were first painted, the tracks were once repainted with a stencil after Second Street was repaved, and that the tracks leading from the football field's press box were painted as if the lion were going in two different directions at once.
Russell's father, Loren, said he thought he recalled the tracks were inspired by a similar tradition at a Southern university, though he couldn't recall which one or just what the school's mascot was.
Lansing is not likely to be the first, and certainly is not the only, school to paint large tracks of its mascot on the streets surrounding its school. Butler High School in Butler, Mo., for one, has bear tracks on the streets around the school and football field.
Dorf said each of the dozens of paw prints on the six blocks the group worked on required about a minute to do. She estimated just more than three gallons of street-marking paint were used in Sunday's repainting.
The volunteers finished Sunday's work in a bit more than two hours. Next up is to repaint the paw prints that circle Lansing Middle School. That project is scheduled for 6 p.m. Sunday, Aug. 28.