City treats workers to lunch, safety message
City Administrator Mike Smith was grilling chicken and hamburgers for city employees Tuesday outside the Lansing Community Center, but he was hopeful events going on nearby would add to a recipe for safety and wellness for the workers.
The occasion was the city's annual safety day and cookout, and all around Smith were activities and events geared toward worker safety.
In the parking lot, the Lions Sight Foundation set up its mobile screening unit, offering screening for vision, hearing, diabetes and blood pressure.
South of the mobile screening unit, Trooper D.E. Wills was showing off the Kansas Highway Patrol's rollover simulator, designed to give a lesson in the importance of buckling up seat belts.
Inside the Community Center, a worker with the city's self-insurance cooperative was measuring the flexibility of workers, a key to avoiding on-the-job injuries.
"We do this to promote safety for our employees," said Smith as he grilled chicken, hamburgers and hot dogs for the workers.
Jason Crum, the city's Parks and Recreation director and a member of the city's Safety Committee, said the city had sponsored an annual cookout for its employees the past nine years. It also had held annual safety demonstrations for workers. Last year, the two events were combined.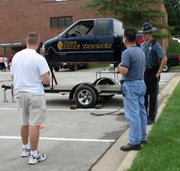 "When we incorporated it with the lunch, we got a better turnout. You always get a better turnout when there's free food," Crum joked.
But the message of the day was serious, said Chuck Pirie, an employee with Safety In Sight, who was manning an information table inside the Community Center.
"The whole effort is to prevent injury on the job," he said. "But you don't turn safety on when you get to work and off when you go home. We're talking about always having safety in the back of your mind."
That's just what Trooper Wills was hoping at his simulator. When his human-sized dummy was strapped in a seat belt on the simulator - built like the cab of a small pickup truck - it withstood a 30 mph "rollover." But when the dummy was placed in the simulator without a seat belt, it was tossed out of the vehicle during the crash.
"If you've got on your seat belt during a rollover, you get bumps and bruises, but you get out in one piece," Wells said. "If not :"
Inside the Community Center, ergonomics specialist Kari Napier held one-on-one sessions with about 40 workers, testing their flexibility. The more a person stretches and is flexible, she said, the more they're likely to avoid injury in normal everyday activities, including work. When a worker's flexibility was in question, Napier would prescribe a plan of action.
"I give ideas for lifestyle changes to decrease the chance for injury, at home and at work," she said.
Napier works with Pirie at Safety In Sight, which is affiliated with Kansas Eastern Region Insurance Trust, a group of 13 counties and cities, including Lansing, that are self-insured for worker's compensation.
For his part, Smith was enjoying the day away from his desk and out among his employees.
"It's something to make them aware of the importance of wellness and safety," he said. "But I'm a big believer in doing things to show how much we appreciate the hard work they do every day, too."