Clerks escape wrath as gasoline prices rise
While rising gasoline prices may have caused some drivers' tempers to flare, clerks at Lansing gasoline stations say customers aren't taking it out on them.
The most common reaction to the prices, cashiers at 7-Eleven, Wood Oil and Petro Deli said, is for customers to ask when prices will go down.
"I tell them, 'When Congress decides to do something about it,'" said Robert Gunnels, a clerk at 7-Eleven, 501 Main St.
In the past month, gasoline prices in the area have gone from an average of about $2.21 for a gallon of regular unleaded to as high as $2.69 a gallon. A year ago, according to AAA, the average price for a gallon of regular unleaded was $1.81 on the Kansas side of the metropolitan area.
Nikki Duff, cashier at Petro Deli, 601 Main St., said she'd not seen any real anger at the ever-increasing prices. But, Duff said, she's fielded many queries as to why prices keep climbing. What's her answer?
"If we don't raise prices with it (the per-barrel price of oil) we don't make any money," Duff said.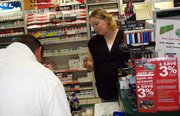 The higher prices aren't a topic at all gasoline outlets in the city. Tony Tony, a cashier at Phillips 66 Q-Shop, 506 N. Main St., said he'd not heard any complaints about prices from customers.
Carol Ohlstein, assistant manager at Wood Oil, said that when prices shot up 10 cents to $2.59 per gallon in the middle of August, her store had waited a day to change the price.
"It was crazy here," Ohlstein said, describing the number of customers the station attracted for selling gasoline cheaper than other area stores.
It looks as if more grousing could be on the way. Government analysts predict prices could rise more and won't drop until after the Labor Day holiday weekend.
"With retail prices up about 25 cents per gallon over the last 2 weeks, it is likely that retail prices rise further over the next few weeks," the Energy Information Administration said in its "This Week in Petroleum" report.