Fifth-graders learn sweet lesson
Don't try to tell Cheryl Rader's class that learning can't be fun.
The fifth-graders capped their first week at school by making ice cream - but not just for ice cream's sake.
Rader taught her students a unit on dairy during the first week. Her lessons included elements of the fifth-grade curriculum, including taking notes and using the scientific method, she said.
But Rader, who grew up on a farm, also wanted to impart some practical knowledge to her students.
"So many kids don't have any idea where milk comes from," she said.
Rader said she attended a seminar about teaching agriculture in the classroom 12 years ago, where she learned about the ice cream project. Since then, she said she has taught dairy week lessons about 10 times.
"What better thing to do the first week of school than a fun, but educational, activity?" Rader said.
After a week's worth of lessons about dairy farms - the processing of milk, including homogenization and pasteurization, and how salt lowers water's freezing point - Rader's class was ready for a treat.
But they had to work for it.
On Friday, students were able to freeze a homemade ice cream mixture using principles they learned earlier that week. Rader said she made the mixture at home on Wednesday.
The mixture was placed in small coffee cans and taped shut. The small can was placed inside a larger one in class, and students packed ice and salt around the inner can. Then they were ready to roll.
The students, who worked together in groups of three or four, rolled the cans back and forth in front of Lansing Intermediate School.
Photo Gallery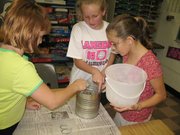 Making ice cream
Cheryl Rader's fifth-grade class at Lansing Intermediate School made ice cream on Friday, Aug. 19, to cap a week's worth of lessons about dairy.
The ice and salt mixture freezes the ice cream, Rader said. She explained that rolling the cans creates air pockets while the mixture freezes that make the ice cream taste better.
Rader's students partook of the fruits of their labor while watching a movie from Midland Dairy Association, "Make Mine Milk." Some groups' ice cream came out to the correct consistency; others hadn't quite frozen.
Kylee Darrow said her ice cream was soupy. She said she thought her group probably hadn't rolled the can enough.
Alanda Kohl said her ice cream was "just right." She said her group wasn't afraid to try new ways to roll.
"We tried a whole bunch of different techniques," she said.
Alanda speculated that the method that worked the best was when she sat between her two group members. One girl on the end would roll the can to Alanda, who would give it a hard push to the other girl. The girls on the end shook the can when it came to them.
Though the texture was good, Alanda said after she first tasted the ice cream that she wasn't a fan.
"The first bite's good, but the aftertaste is pretty bad," she said.
Alanda and many of her classmates said they had never had homemade ice cream before - or "in this case, it'd be school-made," Alanda pointed out.
Despite her initial misgivings, Alanda had changed her mind about the ice cream after eating most of it.
"I've never had ice cream that good before," she said.