Healthy again, Mayes aims to finish
LHS

career in style
The 2004 state cross country meet was a surreal experience for Ashley Mayes.
Mayes, then a Lansing High junior, accompanied the Lions to their first-ever appearance in the Class 5A state meet at Rim Rock Farm in Lawrence, but she was there only to support three teammates who were running. Mayes, a state qualifier in 4A as a freshman and sophomore, missed part of her junior season with an unknown illness. For the first time in her prep career, she was relegated to the sideline to watch.
"I was disappointed because when I got sick, that meant I was getting held back and I couldn't do what I was fully capable of," she said. "I was disappointed that I wasn't able to do my best because I wasn't healthy."
Mayes shook off the frustration of her junior season and used it as motivation during the summer as she prepared for her senior season.
In July, Mayes and fellow senior Erin Eustice attended the Brocaw Blazers Cross Country Camp in Pueblo, Colo., with running guru David Ramsey.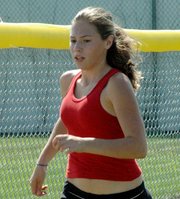 "It wasn't a whole lot about running," Mayes said of the camp. "It was more about smarter training to make us get better. We did some stretching, looked at different shoe types and saw how eating right was important.
"He also taught us the difference between anaerobic workouts and aerobic training. I realized I didn't do so much aerobic training in my summer workouts, so I was working on that this year."
Mayes said the aerobic training included wearing heart monitors and running a certain distance. Then, over the course of the summer, she would attempt to run the same distance faster, but while still maintaining the lower heart rate. The idea was to run faster while exerting less energy.
Mayes said she shared some of the training tips with LHS coach Errol Logue and her teammates upon returning from camp. Mayes also organized team runs three days per week during the summer.
"She was the leader of our summer running group," Logue said. "She stepped into that role and did a real good job."
Although group runs were three days per week, Mayes trained at least five days per week in hopes of ending her senior season on a high note. She was poised to have a strong junior season before illness set in - she had run a personal-best time of 13:19 in the two-mile - and she said she expected to run faster this year.
"I'm hoping to get under 13 minutes this year," she said. "I haven't broken that yet, but I'm certain I'll do it this year."
If Mayes can run under 13 minutes, that will bode well for the Lansing. The Lions again boast a small squad - just six girls - so they'll need fast times from everyone if they hope to place high in the team standings. The potential for fast times is there, though. 2004 state qualifiers Eustice and junior Bianca Manago both return, and sophomore Elizabeth Parks showed major improvement during the summer, Logue said. Another state qualifier, sophomore Rachel Pride, opted to play club soccer instead of running this fall.
Two other newcomers could make an impact this season. Junior Briana Zak transferred to LHS from Texas and should compete for a varsity spot. Junior Lori Floppi transferred to Lansing from Leavenworth, but she won't be eligible to compete with the varsity until second semester.
Low numbers also will be a challenge for the boys' squad, but Logue said to keep an eye on sophomore Griffin Davis. Davis, who ran cross country and track as a freshman, made major strides last spring and could emerge at the Lions' top runner this fall.
"He would be a great kid to see qualify for state," Logue said. "He's shown a lot of interest and he ran a lot in the summertime."
Logue said Davis learned how to compete last year, but he said Davis needed to push himself beyond his comfort zone this fall in order to really lower his times.
"Right now he trains hard and races well," Logue said, "but he's got to get into races where he's hurting. That's how you begin to push that barrier back. That's where he's got to go next."
Logue also praised the offseason commitment of sophomore Jim Mayes, who tacked on a lot of miles during the summer. Junior Jason Gibson also will compete for a varsity position.
The Lions' other five runners all are newcomers to cross country. Senior Stewart Jones made his distance running debut last spring when he ran the two-mile during track season. Jones, a varsity wrestler, used the track season to build his endurance for wrestling. He will do the same this fall with cross country, but Logue said Jones will make a positive impact on the team.
"Because of his attitude and his work ethic, he could be a leader for us," Logue said.
Four freshmen - Trenton Dorf, Michael Hornick, Matt McCurry and A.J. Glowachi - also could make major contributions during their first year with the program.