LHS

soccer opens Friday against Bonner Springs
Lansing High boys soccer coach Randy Brown hasn't given much thought to what Bonner Springs might bring to the field at 4 p.m. Friday when the Lions play the Braves at BSHS.
Odds are, the Braves haven't thought much about Lansing either.
"We don't know very much about them," Brown admitted, "but right now we're not concerned about them. We're more concerned about having our offense and defense perform the way we need them to perform at the beginning of the season."
The Friday contest will give Brown a chance to see exactly how much his squad has accomplished during its first two weeks of practice.
There is some added significance to the season-opener, though, because it will count in the Kaw Valley League standings.
"We'd like to win it and push our way up in the pack," said Brown, whose squad won both games against Bonner last year. "But we're still more concerned with what we need to implement and execute."
So far, Brown said he had been pleased with his players' work ethic. He praised seniors Mike Bayless and Theo Daniels for setting the tone with their leadership.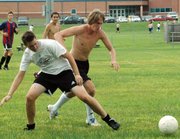 "I think that Mike Bayless and Theo Daniels' leadership and solid play on offense and defense are really keys for us," Brown said. "They continue to be a cornerstone of what we do."
Brown said he also had been pleased with the progress of the defense so far. He said the improvement had been even more significant considering the Lions were trying to move from playing a four-back set to a three-back set this year.
"Our primary concern was making sure our defense was going to have pretty good depth and understanding to it, and we're very pleased with the way that's coming together," Brown said. "Friday will be a good test to see just how well it's coming together."
Brown said it appeared senior Steve Parker and junior Josh Robinson would start alongside Daniels on the defense. Junior Alex Burton will be the starting goalkeeper.
At midfield, the Lions will use two center-mids. Bayless and freshman Clayton Hall will handle those duties while seniors Shawn Jung and Gabe Garza will play the left and right midfield positions.
The Lions return their top three scorers from 2004, and they will make up the starting lineup up top. Seniors Brad Mock (10 goals, one assist) and Ty Thackston (eight goals, one assist) will join junior Andy Dick (11 goals, four assists) as the starting forwards.
Brown said it was imperative all three have an even stronger season this year if the Lions are going to improve on their 8-9 record from a year ago.
"We need to get our offense cooking," Brown said. "We need to be able to score some goals, or it's going to be a long season for us."