John Wendel is retired from 33 years as a banker. He is far from idle, however, serving as president of the Lansing Kiwanis Club and baking at the Lansing High School cafeteria.
Additionally, he belongs to no fewer that seven area clubs.
Wendel was born in Lansing, but his surname has an even longer history in the city.
His father, Arnold, was a body repairman and mechanic at Wendel's Garage, run by Arnold's sister-in-law and brother, Hazel and Ernie. The garage was where Babe and Grayce's Antiquables, 112 S. Main St., now sits.
Wendel said he figured he inherited some of his dad's mechanical aptitude, which shows in his love for muscle cars. Two years ago, he bought a cherry 1967 Oldsmobile 442, which he exhibits in car shows. His wife, Mary Lee Wendel, and he have traveled more than 300,000 miles on their Honda Gold Wing motorcycle.
Wendel's appreciation for history is evident in many of the items he owns. He lives in the house once owned by the man who delivered him, Dr. Robert Moore. Wendel's large garage, in which he keeps the classic Oldsmobile, also houses his woodworking shop upstairs. In the same garage he has a 1940s gasoline pump he bought at an auction a couple years ago. A framed Horton Headlight newspaper page from May 8, 1947, hangs on the garage wall.
One of the clubs in which Wendel holds membership is Lansing Kiwanis. Wendel was the first president and is its only living charter member.
Wendel said Kiwanis' primary mission is helping youths. It was an interest in helping young people, Wendel said, that inspired him to take the job of baker at Lansing High School.
He couldn't cook before he started the job, and joked, "I don't think I can boil water, but I can cook for 729 kids."
His wife is the head cook at LHS. They have been married 40 years, and this July they took an Alaskan cruise to celebrate the fact.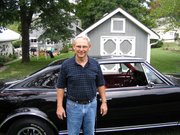 Name: John Wendel
Address: 128 E. Kansas St.
Occupation: Retired
Education: Pittsburg State University, Kansas City Junior College (now Kansas City Kansas Community College)
Family: Wife, Mary Lee Wendel; daughter, Monica; son, Tom
How long have you lived in Lansing? My whole life, except for a stint in Texas in the National Guard and a year in the dorms at Pittsburg State University
What do you like most about Lansing? It's a hometown feeling, for me. My children live right here in town.
What do you do to relax? Fishing, motorcycle riding, woodworking and art collecting.
What would surprise people about you? That I like art. I collect art deco paintings, and my favorite is Michael Young.
What's the best advice you've received? From my father, "Always be honest."
To what organizations or clubs do you belong? Lansing Kiwanis Club, 9-mile Masonic Lodge; Abdallah Shrine, Overland Park Shriners Club, Gold Wing Touring Association, Golden Oldies Classic Car Club of Kansas City, Kan. Leavenworth Cruisers, and Oldsmobile Club of America.