Parents flock to open house, taco dinner
An annual open house Monday at Lansing High School attracted about 400 parents, who were given a closer look at the school their sons and daughters attend and a chance to meet those who will teach them.
The event is intended to familiarize parents of students with teachers, the school building, and the schedule of a typical school day.
Parents went from classroom to classroom for six-minute "hours" to meet and talk with teachers, in a sped-up version of students' schedules.
LHS Principal Steve Dike said the open house served to give parents a "snapshot of students' days."
"It also fits well with freshmen orientation," which was initiated last school year, he said.
Dike said the open house had another purpose: Students' parents may not understand issues their children face when they don't know the school and its teachers.
"It's so parents can relate to problems when they arise," such as problems with tardiness, he said.
Nils Erickson, a parent, said the best thing about the evening was meeting his child's teachers.
Wes Cackler, science teacher, said he enjoyed meeting parents.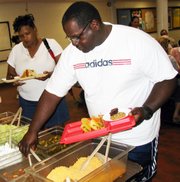 "We had a great group," he said. "I had a lot of parents come up and introduce themselves, and I got to show them how my class is set up, and what kids go through when they first get here."
Although the sky was overcast and rain was sprinkling Monday evening, the weather was an improvement over last year's open house, when a tornado warning was issued for the area, said Linda Tubbs, an LHS counselor.
After the open house, the LHS Dance Team, LHS Cheerleaders, and LHS Band performed in the gymnasium. Counselors then met with parents of seniors to discuss their children's post-graduation preparations.
The open house was preceded by a taco dinner in the LHS commons, organized and served by the LHS Band Booster club. Both club members and band members helped prepare and serve food.
Sean Wooley, club member, worked in the school kitchen serving food, and said 50 pounds of seasoned ground beef were cooked for the occasion. A donation to the club bought two or three tacos, salad, a drink and a choice of desserts, which were furnished by freshman band members.
Funds raised by the dinner will go toward a band trip and scholarships, said Valerie Lamborn, club member. The club is also hoping to buy new uniforms for the band, she said.
The Band Booster club will serve its annual Chili Feed at the high school on Oct. 5.