Veteran special education teacher uses skills first learned at home
Karen Rodgers has been a teacher in special education for 18 years, but she has been using the teaching techniques for students with special needs for far longer.
Rodgers' brother suffered from mental retardation. She said she was surprised to see the tricks she and her family used to help him in her special education textbooks.
"It's just natural for me," Rodgers said of the techniques. "You just do it."
Rodgers is part of the Leavenworth County Special Education Cooperative. She teaches in a structured learning classroom at Lansing Elementary School. Her classroom, she said, is for autistic students or other students who need a "very consistent routine" or one-on-one attention. She will have six students in her classroom this year, she said.
Rodgers said she got involved in teaching special education classes when her brother's high school teacher asked her to help with a class of severe multiple-handicapped students during her lunch. After that, she said, she continued to volunteer in special education classrooms and with Special Olympics.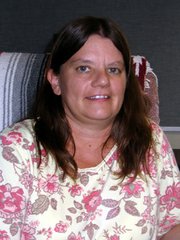 She said her various experiences helped her to develop the philosophy that the more people who get involved in children's education, the better - more people contribute more ideas that can help the students. Her job is to act in the best interest of the students, she said.
Once she received her teaching certificate, Rodgers taught in Mississippi and Missouri before coming to the co-op. This year is her ninth teaching for the co-op, Rodgers said.
Rodgers said she was transferred to Lansing Elementary from Patton Middle School at Fort Leavenworth, where she had worked for five years, to fill in for a last-minute resignation.