This is a followup to my History Corner last week about gasoline stations.
In the cobwebs of my mind I remember when Mr. Derbyshire's gas station changed its sign from Phillips 66 to Phillips 77.
In order to check my facts, I got on the Internet and looked up "Phillips 77, 1934," and to my delight, up came the origin of Phillips 77.
I was 6 years old in 1934, and I remember that sign very well. I keep wondering why that sign would be in a Lansing filling station in 1934. Was this sent to them by mistake, or could it have been an advertisement to promote the commercial airline industry that was in its infancy? I do know that there were small aircraft in the area at that time, and it is possible that Mr. Derbyshire did sell aviation gas at his station.
The Phillips 77 logo sign is orange and black with "Phillips Aviation" written on it.
The following information is from the Phillips 66 Aviation Web site, Phillips66Aviation.com: The founder, Frank Phillips, developed the additives neohexane and isopentane. These are fundamental ingredients to boost the power of aviation gasoline. In 1944, they were the major producer of diisopropyl, a key military aircraft superfuel that allowed more powerful takeoffs and higher sustained flight speeds.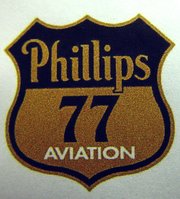 Frank Phillips was a friend of Wiley Post, the first pilot to solo around the world in 1933, and also sponsored many of his aviation firsts. Post set an altitude record of 49,000 feet in 1934 and discovered the importance of nature's jet stream system to gain speed and save fuel. Wiley Post died in an Alaskan airplane crash with his friend Will Rogers in 1935 on another round-the-world flight.
As kids, we were influenced by Wiley Post to fly and played "around the world flights" in a big haystack on Jameson's farm that was located where the Intermediate School is today. We had a rope anchored to a pole at the top of the haystack and would swing around until we crashed.
The problem with doing history is you come up with more questions than answers.