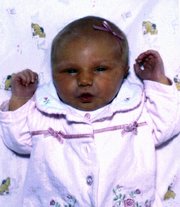 Craig and Dawn Bracken, Basehor, announce the birth of their daughter, Audrey May.
Audrey was born Oct. 6, 2005, at Olathe Medical Center. She weighed 7 pounds, 6 ounces and was 19 1/2 inches long.
Maternal grandparents are David and Debbie Bergman, Lansing. Paternal grandparents are Burton Bracken, Cross Timbers, Mo., and Robin Bracken, Freeman, Mo.
Maternal great-grandfather is Charles Kraft, Lawrence. Paternal great-grandfather is Donald Hankins, Belton, Mo. Maternal great-grandmother is Dorothy Griffiths, Bonner Springs.