Choirs prepare for busy season
The Loyal Lansingers Children's Choir will take its winter show on the road, making appearances this weekend in Leavenworth.
Fourth- and fifth-graders from Lansing Elementary and Intermediate schools will perform at the Leavenworth Performance Center, 500 Delaware St., as part of a children's "Spirit of Christmas" play that benefits the River City Community Players. The play involves children from all over the community, choir director Sherri Schwanz said, but the Lansingers are the only choir showcased.
Participating in the show is now a tradition for Schwanz and Jonnie Brice, another choir director, Schwanz said.
"Jonnie and I have been doing it since 1991. Can you believe that?" she said.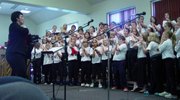 Members of the Lansingers will appear at one of the three showings of "The Spirit of Christmas" play. Schwanz said the stage is too small for the whole choir, so only one-third of the students will perform at each show. Show times are 7 p.m. Friday and Saturday and 2 p.m. Sunday. Cost is $5 for adults and $2 for children age 12 and younger.
But Leavenworth isn't the only place to see the Loyal Lansingers. True to their name, they will perform their annual winter show on their home stage - the LIS gym - at 1:30 p.m. Friday. That show will include the third-grade members of the choir.
The choir will sing "Hot Cup of Cocoa," "Everybody Loves a Christmas Song," "A Christmas Wish Come True," "Happy Winter" and "Santa Wants a Brand New Bag."
Schwanz said the last song is popular with the students because it's kind of a rap. "Hot Cup of Cocoa" was included at the requests of Schwanz's son, Bryan, and Brice's son, Joshua, who are both in the choir this year.
Last month, fifth-graders had another opportunity to show off their talent at the Festival of Trees, a benefit for the Leavenworth Public Library.
"They did really well," Schwanz said.
After this weekend's performances, Schwanz said, the choir will go on break. They will reconvene in January to prepare for the spring concert. Also in the spring, fifth-graders in the choir will perform at Crown Center in Kansas City, Mo., Schwanz said.