Chop, chop: Lions hope to raise funds through firewood raffle
With the onset of winter weather and the higher cost of heating with natural gas these days, fireplace wood burning should appeal to local residents.
That's what Lansing Lions Club members are hoping this year. The club will conduct raffles for a cord and half-cord of firewood. With the donation of $1, participants can enter to win one of the two chances to receive firewood from the club. A cord is 4 feet by 4 feet by 8 feet of firewood.
The money raised will benefit the Lions' various youth programs, the Mayor's Christmas Tree Fund and projects for preventing blindness and diabetes.
The wood is donated each year, usually by a community member, club member John Bennett said.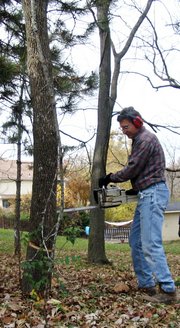 This year, club members chopped down several elm trees and loaded the lumber at Bob Wallis' Leavenworth property. Wallis, who is friends with several Lions members, said he was going to clear the trees out anyway.
The wood won't be used for this year's giveaway - it will sit in storage to cure until next winter, Bennett said.
The wood for this year's raffle, cut down last winter, will be all hard wood, he said.
The firewood drawing will be conducted at the club's meeting on Tuesday, Dec. 6, and the wood can be delivered by Christmas, club member David Chartier said.
Tickets for a chance to win either the cord or half-cord of firewood are available for $1 donations by contacting any Lansing Lions Club member or calling Chartier at 727-6738. There is no limit on the number of tickets available to each person.