7th-grade girls finish with eight perfect minutes
The Lansing Middle School seventh-grade girls' basketball team lost its season finale, 27-19, to Clark in the third-place game of the Lansing Tournament, but that wasn't what mattered most to LMS coach Terry Cornett.
Most of his players had played very little basketball before the season began, and for most of the year they hadn't played with much confidence after falling behind. That wasn't the case Saturday, however, as the young Lions showed their coach just how much they learned this year.
With a little more than two minutes remaining in the first half, Clark led Lansing by 10 points - a margin that earlier in the year would have been insurmountable for the Lions. Cornett called a timeout to settle down his players, who responded with eight minutes of near-flawless basketball.
"I knew all along they had it in them," Cornett said of the dominating stretch his squad put together.
For eight minutes, the Lions played feisty defense, made good passes and knocked down open shots. During that span, they went on a 13-0 run and turned a 14-4 deficit into a 17-14 lead. Allison Ewing made strong moves in the post. Katie Delich blocked shots and sank free throws. Alyssa Cole sank a long jump shot. Sara Beck played tough defense. The Panthers' Devene Salvino drained a three-pointer at the end of the third quarter that tied the game at 17-17. The basket represented her team's only points during that span.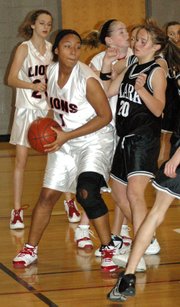 Unfortunately for Lansing, Salvino's basket was the spark Clark needed to regroup. The Pathers outscored the Lions 8-2 in the fourth quarter to pull away for the victory.
"I thought we had a real good chance there when it was tied up 17-17," Cornett said. "Even when they hit that three-pointer, I thought, 'We still have a chance,' but we had some breakdowns on defense, didn't block out and they got a couple buckets underneath."
The Lions ended their season with a winning record at 6-5.
Delich led Lansing with seven points. Ewing scored six, and Cole, Sarra Garvey and Katie Jensen added two apiece. Other team members were Beck, Celeste Brinkley, Kari Filbert, Kylie Filbert, Casey Roberts, Sara Slater and Cheyenne Rettele.