After strong start, wrestlers turn focus to Eudora Tournament
The Lansing High wrestling team hardly broke a sweat in dominating the Spring Hill Tournament on Saturday in its first outing of the season, but LHS coach Ron Averill expects the Eudora Tournament to be much tougher.
The Eudora Tournament - a two-day wrestling festival that begins at 2 p.m. Friday and continues at 9 a.m. Saturday - is a 25-team spectacle that includes some of the top Class 4A, 5A and 6A programs in the state. Among the powerhouse programs in attendance will be Effingham, Baldwin, Spring Hill, Lawrence High, Lawrence Free State, Emporia, Blue Valley and Saint Thomas Aquinas, the No. 2 team in 5A behind Lansing.
"I think we can use our wins (at Spring Hill) to inspire us, and we can use our mistakes to inspire us also," Averill said. "The thing we need to start focusing on now is that we need to be prepared to wrestle the best match of our life every time. Some of our guys weren't ready to do that."
Not all of the Lions were at their best at Spring Hill, but they still were good enough to win their divisions. Sophomore Dennis Wood (103 pounds), junior Kyle Buehler (135), senior Sean Flynn (140), junior Kyle Grape (145), senior Lance Fink (160) and senior Logan Ryan (215) all won their weight classes. Sophomore Chance Thackston (119), senior Jeff Terrill (152), senior Jordan Pratt (171) and sophomore Brad Terron (275) all placed second. Junior Scott Keller also earned a top-four finish, placing fourth at 112 pounds.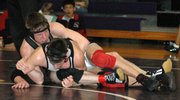 Averill expected Grape, Flynn and Buehler to win because they were state medalists last year. He said he was most pleased with the performances of Wood, Fink, Ryan, Thackston, Terrill, Pratt and Terron because they didn't have as many expectations on them, and they rose to the challenge.
"We know that all of those guys are quality competitors all the way through," Averill said. "They just don't have that name recognition that some of the other guys do, and sometimes that can work to your advantage."
Two of Lansing's returning state medalists were unable to compete Saturday. Sophomore Nick Flynn didn't make weight during the weigh-in, so he was ineligible to compete. He was supposed to wrestle at 125, but Averill said Flynn likely would move up to 130 for the remainder of the season. Senior Ryan Civils - ranked No. 1 in the state at 189 pounds - was held out for undisclosed reasons and will be unable to compete until January.