City
OK

's new snow routes
Just in time for the first major snowfall of the year, the Lansing City Council has approved new emergency snow routes.
"This year has special significance because we do have some new routes because of the annexation," Public Works director John Young told council members at their meeting Thursday, Dec. 1.
In addition to new routes in the annexed area, there are other minor changes, Young said.
Council member Kenneth Ketchum asked that in the future all changes be noted for council members.
Young said the routes were based on getting primary routes cleared for snow plows to efficiently get around the city.
Once a snow emergency has been declared, parking is not permitted on streets designated as part of the emergency snow route. In addition, any vehicle without chains or snow tires that gets stuck on one of the designated streets is subject to being ticketed.
Young said snow emergencies generally are declared whenever the forecast for the city calls for more than 4 to 6 inches of snow. That means an emergency could be called for the snowfall that is anticipated today, Dec. 8, Young said.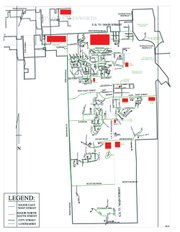 In other action, the council:
¢ Approved minutes from the council's Nov. 17 meeting.
¢ Watched as Mayor Kenneth Bernard, City Administrator Mike Smith and city department heads presented employees with their annual merit pay awards. Employees who met certain goals during their annual evaluation were eligible for either a $400 or $600 award, Smith said.
¢ Watched as Police Chief Steve Wayman presented Officers Billy Blackwell II and Fred Grenier with badges signifying their promotions to the rank of police sergeant.
¢ Approved a utility relocation agreement with Southern Star Central Gas Pipeline Inc., to allow work on East Eisenhower Road. Relocation of the six-inch natural gas pipeline, which is expected to be completed within 30 to 60 days at an estimated cost of $119,882, with the city's share estimated at $71,929. The company will pay the balance.
¢ Approved a resolution certifying acquisition of right of way, arrangement for utility relocation and commitment of local funds for the East Eisenhower Road improvements. The resolution is a requirement for projects receiving federal funds and was required before bid letting could go forward on the project.
¢ Authorized the mayor to sign a Certification of Real Property Acquisition Procedures for the East Eisenhower Road project. The certificate is required for all projects administered by the Kansas Department of Transportation.
¢ Approved revisions to the emergency snow route ordinance.
¢ Approved the reappointment of Ronald "Dusty" Rhoads to the Leavenworth County Fire District No. 1 Board of Trustees.
¢ Approved the reappointments of Tom Barnhouse, Dale Bohannon, Kevin Gardner, Brian Kroll, Tina Orth, Deena Pettis and John Warner to the Lansing Parks and Recreation Advisory Board. Warner's term ends Dec. 31, 2006; the others' end Dec. 31, 2007.
¢ Approved the reappointments of Richard O'Donnell, Tina Orth and Chris Southard to the Lansing Tree Board for terms expiring Dec. 31, 2008.
¢ Agreed to the postponement of a presentation by representatives of Jeffrey L. Bruce & Co. regarding the Lansing Community Park master plan. Smith said the item was not yet ready to come to the council.
¢ Met for 20 minutes with attorney Catalina Thompson in executive session to discuss a legal matter. After coming back into open session, the council authorized the mayor to continue negotiations with Professional Engineering Consultants of Topeka, the city's engineering consultant on the Wastewater Treatment Plant.