Fitting finale
Eighth-graders end two-year run with 22-1 record, tourney title
When the Lansing Middle School eighth-grade girls' basketball team squared off with Lexington Trail two weeks ago, the Lions needed a fourth-quarter rally to escape with a five-point victory.
During the rematch Saturday in the championship game of the Lansing Tournament, no last-minute heroics were needed. Sure, LMS struggled to score for most of the game, but its defense was so stifling that the lack of offense hardly mattered. Lexington Trail made just five field goals all game and had 33 turnovers as Lansing rolled to a 26-15 victory.
"They've played real well as a team all year, and they finished up strong," LMS coach Keith Andrews said.
The game was scoreless for the first 3:28 as the Lions missed numerous shots from close range. In fact, a jump shot by Abbey Lozenski and a baseline jumper by Lisa Angello were the only points of the first quarter.
A three-pointer and a pair of free throws by Allison Dillon provided the second quarter spark that LMS needed to extend its lead to 14-4 by halftime. A three-pointer by Katelyn Griffen and another jumper by Lozenski rounded out the first-half scoring.
Lansing (10-1) may have been frustrated with its lack of offensive punch, but at least it was able to attempt a few shots. Lexington Trail didn't have that luxury. The Panthers rarely crossed midcourt because the Lions' defense forced 21 first-half turnovers.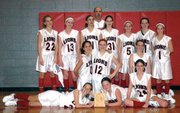 "Every day we do something defensively," Andrews said of the squad's practice regime. "I told the girls, 'There will be nights where you can't throw it in the ocean, but you've got to be able to be able to play defense every night, and you've got to rebound every night.' Defense is where it starts."
Rachel Milnark may not have scored in the first half, but she made up for it in the third quarter when she scored all eight of Lansing's points. She scored six on easy lay-ins under the basket - two of which came off nice passes from Lozenski and Elle Hauver. The other two came from the free-throw line. Lexington Trail scored eight of its 15 points in the fourth quarter when the game was well out of reach.
Milnark led all scorers with 10 points, and Dillon had five. Lozenski and Angello chipped in four points apiece, and Griffen finished with three. Milnark and Kari Kelly each had four steals, and Hauver and Griffen each had three. Other team members were Bianca Castello, Chelsea Weeks, Lauren Jaqua, Kristen Gould, Krystenna McCrudden and Ariana Domke.
The Lansing Tournament title was the second straight for the LMS girls. They won last year's title by beating Clark in overtime, 27-25. Finishing the seventh-grade season with a 12-0 record, the group now has a two-year record of 22-1.
"This is a group for the future," Andrews said. "They're a group that when they come to practice or class, they always have a smile on their face. Nobody has a sullen look and nobody's down. They're all good kids on top of being pretty good athletes, so it is a good group, and we've been blessed to have them."