Peanuts is music to Leavenworth collector's ears
Leavenworth — Pauline Graeber didn't plan anything special for the 40th anniversary showing of "A Charlie Brown Christmas" earlier this week.
Yes, her entry in this year's Festival of Trees in Leavenworth did include what she called "Charlie Brown's pitiful little tree" with an ornament of Snoopy's award-winning, gaudily decorated doghouse.
But these days, Graeber said she wasn't all that interested in tuning into the special in which Charlie Brown decries the commercialization of the season. "A Charlie Brown Christmas," the first time Charles M. Schulz's Peanuts characters jumped off the comics page and were set in animation, originally aired on Dec. 9, 1965.
"If I'm going to be 100 percent honest," Graeber confided, "I don't really watch it a lot anymore because of the (abundance of) commercials. You know, they've cut so much out of it."
That's not to say Graeber isn't wild about Peanuts. The Leavenworth resident, whose husband is Leavenworth County Commission chairman Clyde Graeber, has a collection of Peanuts memorabilia that numbers around 3,000 items. Within that collection are 556 music boxes featuring Peanuts characters. It's one of the largest private collections of Peanuts music boxes - or musicals, as she calls them - anywhere.
The musicals fill more than a half-dozen china cabinets lining the Graebers' dining room.
Photo Gallery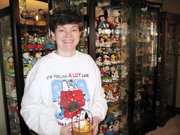 Peanuts musicals
Pauline Graeber is a renowned collector of Peanuts music boxes.
There are Charlie Brown musicals, Linus musicals, Lucy musicals, Schroeder musicals, Sally musicals, Woodstock musicals, Pig Pen musicals and, of course, Snoopy musicals.
Pauline's collection includes music boxes depicting balloons of Peanuts characters playing baseball, as Joseph, Mary and the shepherds in a manger, driving cars, flying airplanes, playing hockey, as balloons in the Macy's Thanksgiving Day Parade and on and on.
"I've been a Peanuts fan forever, in particular Snoopy," Pauline said.
She began her collection in the 1970s, innocently enough with a purchase from Schmid Collectibles Co.
"Schmid used to come out with a bell, a plate and a musical each year. So I would get those three," she said.
From there, the habit took off. If a collectible had Snoopy on it, Pauline was interested in it - "I have practically Snoopy everything," she said. The collection eventually grew to more than 6,000 pieces of Peanuts paraphernalia, most of it Snoopy-related.
Why Snoopy?
"I love dogs and he never acted like a dog. We have a dog who doesn't act like a dog. Snoopy, you know, does everything : and anything. It's probably partly my love of dogs," Pauline said.
As, Pauline's collection grew, she was making contacts both nationally and internationally. She and Clyde made trips to "Beaglefest," the biennial gathering of Peanuts collectors held in Santa Rosa, Calif., where Schulz called home. It was at Beaglefest that Pauline met the cartoonist and even got to visit his studio and sit in his drawing table seat.
"He thought we were all nuts," she said of Schulz.
Word spread about her collection, and in 1994 Kansas City-based Hallmark borrowed items from her that were photographed and used, with Schulz's blessing, on a puzzle to mark the 45th anniversary of the strip in 1995.
At some point, though, it became apparent to Pauline that she had to downsize.
"There just comes a point when you just can't have everything," she said. "When we would talk about maybe moving to a smaller house, my husband would say, 'Well, you pack the Snoopy stuff.'"
And so, the downsizing began. But because she had so many Snoopy music boxes, she decided to keep them, sell off other items and begin adding music boxes with other Peanuts characters.
"Before I would have never collected Charlie Brown, Linus, so I just decided the music boxes were a good thing to concentrate on," she said.
Where she and Clyde used to scour the region's flea markets for Peanuts collectibles, Pauline now is a tried-and-true eBay user.
"It's not as easy to find stuff in flea markets anymore. I think eBay had a real effect on that," she said.
With Schulz's death in 2000, some of the luster has worn off of Peanuts collectibles, Pauline said.
"In general, I think, Snoopy collecting has changed since Snoopy died," she said, noting that Peanuts music boxes still are as popular as ever.
The continued popularity of music boxes and some encouragement from Clyde led Pauline to write and publish "The Wonderful World of 'Peanuts' Musicals," a collector's guide, in 2003. It has pictures and prices of more than 400 music boxes - all but two of which belonged to Pauline.
Just how does she arrive at the price for a piece?
"You know, you guess," she said. "People laugh when I say that, but that's all you can do. You just look at the market and judge from your experience, and you just take a guess. The values I put in the book two years ago are obsolete now, and it's just kind of a guide."
Thirty-three years ago, when Clyde met and married Pauline, she was just starting off on her Peanuts collection.
"She maybe had one or two pieces," said Clyde, who has seen Pauline's collection grow firsthand.
"He puts up with it," Pauline joked, then added, "No, he's very good about it."
"To see the happiness it brings to her face," Clyde said, "that's a good tonic for me."