Lansing boys drop close one to Hogan Prep
Girls outsized by Seaman
Bonner Springs — With the exception of the final score, the Lansing High boys basketball team made a pretty solid showing in its season-opener against Hogan Prep on Friday at the Bonner Springs Metro Prep Classic.
Hogan returned all of its top players from last season's squad that placed fourth at the Missouri Class 3 state tournament, and it already had played three games this season - all victories. Still, Lansing never seemed rattled by the bigger, stronger, more athletic opponent. In fact, LHS had plenty of chances to win before falling, 61-56.
A few sloppy passes in the fourth quarter and a two-for-seven effort at the free throw line in the first three quarters cost the Lions the opportunity to pull off the tournament's biggest upset.
"It's a loss, but we'll take it. It's the first game," LHS coach Don Allen said. "Some good things happened that can build off of, and those guys know that we can't shoot free throws that way. They also know that we had some mental breakdowns that shouldn't happen to us with the guys that we've got."
The Rams (4-0) dominated the first three minutes and used a dominant inside game and some sizzling long-range shooting to take a 12-4 lead. The Lions shook off the early deficit and responded in a hurry. They dominated the next nine minutes and unleashed an 18-8 run that was sparked by senior guard Cody Mohan's hot shooting. He drained two three-pointers during the spurt. Senior Austin Reynolds and juniors Jeff Jackson and Kyle Miller all played steady off the bench during that stretch and allowed the starters to rest. A 12-foot floater by senior forward David Kern gave the Lions a 22-20 lead with 4:15 left in the half.
Lansing (0-1) was sloppy on its next few possessions and hurried a few shots as Hogan closed the half on a 5-0 run and took a 25-22 lead into the break.
Photo Gallery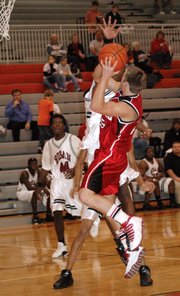 Lansing boys fall to Hogan Prep
The Lansing High boys basketball team lost to Hogan Prep, 61-56, Friday in its season-opening loss at the Bonner Springs Metro Prep Classic. Hogan placed fourth at state in Missouri Class 3 last year and returned everybody from last year's team.
"We're up, and then we did things to give it back to them. I wouldn't say they necessarily took the lead back from us. We came down, threw the ball away, shot out of the offense real quick," Allen said.
The Rams opened the third quarter on an 8-3 run and stretched their lead to double-digits, but another trey by Mohan, a floater by Kern, a free throw from Jackson and a lay-in by senior Jeff Slater and put-back by Kern pulled the Lions within 37-35 before the Rams' Greg Kearney drained a three-pointer at the buzzer to push the lead back to five points.
Hogan stepped up its defense in the fourth quarter and used a series of blocked shots and steals to push its lead to 59-46. Then Lansing mounted its late rally. Mohan drained three free throws, Wagner sank a pair from the stripe and nailed a three-pointer and Slater scored on a layup, but it was too little to late.
Perhaps the brightest point for Lansing from Friday's game was the fact that it received steady production from its guards. Wagner and Mohan combined for 30 points and made six of 13 three-point tries.
"Cody shot the ball fantastic," Allen said. "For us, you can't hope for a better start from the perimeter than what we got today. We're real excited to see that."
Wagner led the Lions with 16 points on five-for-12 shooting, including three-for-three from beyond the arc. Mohan added 14 points and hit all three of his shots from long range. Slater added 12, Kern scored 10 and Jackson chipped in four. Kearney led the Rams with a game-high 21 points and hit five three-pointers. Terrance Hill added 15, Lametred Jones scored 11 and Fred Patton chipped in 10.
Lansing next plays at 1 p.m. Saturday in the consolation semifinals against Harrisonville. The Lions beat the Wildcats in last year's tournament.
SEAMAN 72, LANSING GIRLS 45
The Bonner Springs Metro Prep Classic hasn't been the best place for the Lansing High girls to open their season - at least not according to the scoreboard.
The Lions dropped last year's opener to the Lawrence Free State Firebirds by 24 points, and this year's contest against the Topeka Seaman Vikings was no different.
Seaman 72, Lansing 45.
Photo Gallery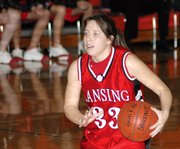 LHS girls slip against Seaman
The Lansing High girls basketball team dropped its season-opener to Topeka Seaman on Friday during the first round of the Bonner Springs Metro Prep Classic.
"For not practicing for a couple days, not having school, that's a pretty good team," LHS coach Keith Andrews said, noting that back-to-back snow days had kept the Lions off the practice floor for two days. "From our standpoint, we looked like we haven't practiced for a couple days."
The Vikings surged to a 7-2 lead, but the Lions roared back to take the lead with a 6-0 run as Rachel Darrow and Elizabeth Cristiano both scored on old-fashioned three-point plays. The Vikings answered with a 16-3 lead to close the first quarter by feeding the ball to their interior giants - 6-foot junior Aubree Gustin and 6-foot-5 junior Breanna Lewis - and getting a series of fast-break points from senior guard Raychel Boling.
LHS pulled within 28-17 on Katie Nietzke's spinning jumper midway through the second quarter, but that was as close as it would get.
The Lions showed plenty of first-game jitters, which were evident in hurried shots and forced passes. Meanwhile, the Vikings repeatedly turned turnovers and blocked shots into fast-break points the other way.
In all, it was a frustrating first outing for Lansing.
"They played well," Andrews said of Seaman. "The bad news for us is we'll see them again in substate. That's a good measuring stick to start with."
Senior forward Amanda Radovich led the Lions with 13 points and Darrow added 11. Junior point guard Riann Deere scored seven points, Cristiano finished with six, Nietzke had four, sophomore Amanda Darrow had two, and senior Nichole Twitchel and sophomore Christine Cordes added one apiece. Boling led the Vikings with a game-high 31 points on 13-for-20 shooting.
Lansing next plays at 6:15 p.m. Saturday in the consolation semifinals against Atchison.