Lansing boys and girls place sixth at Bonner Tourney
Girls stung by Savages; boys fall to Braves
Bonner Springs — If the Lansing High girls basketball team could take a mulligan on one game this season, Wednesday night's contest against Savannah likely would be the one they'd choose to do over again.
Less than 24 hours after hanging on for a three-point victory against Kaw Valley League foe Basehor-Linwood, Lansing showed signs of having weary legs as it lost to Savannah, 74-62, in the fifth-place game of the Bonner Springs Metro Prep Classic at Bonner Springs High School.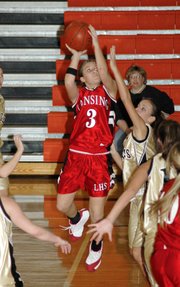 Lansing (2-2 overall, 1-0 KVL) was sharp during the first quarter. Senior Rachel Darrow knocked down jumpers, slashed to the basket and sank free throws for seven early points. Sophomore Katie Nietzke drained a three-pointer, and senior forward Amanda Radovich asserted herself inside as she scored six points in the first eight minutes and helped LHS take a 16-13 lead.
Then the tired legs kicked in. Suddenly passes became sloppy and open shots stopped falling. The Lions went cold from the field while the Savages heated up. Sara Eiman bombed in a pair of threes. So did Courtney Wilson. Katie Wood scored in transition. Suddenly it was halftime and the Lions were behind, 40-25.
"At the half we talked about making a run," LHS coach Keith Andrews said. "I told them, 'We're on a fence. Do we fall off the wagon or do we come back and make it interesting?'"
Savannah extended its lead to 22 points early in the second half, but then Lansing launched its first rally. Andrews gave a glimpse of the future when he put the lineup of freshman Brittney Lang, sophomores Morgan Chiles, Amanda Darrow and Nietzke and junior Elizabeth Cristiano on the floor. Darrow knocked down a 17-footer, Nietzke converted a three-point play and Chiles scored on a layup that pulled the Lions within 51-39 before the Savages pressed their advantage back to 18 points.
Junior Riann Deere's three-pointer at the end of the third quarter sparked a 9-4 run that pulled the Lions within 10, but that was as close as they would get. The Savages stalled for most of the final four minutes and forced the Lions to foul them. Solid free throw shooting put the game away.
"We got down and the kids fought hard and came back," Andrews said.
Eiman and Wilson led Savannah with 20 points apiece. Radovich led Lansing with 17 points. Rachel Darrow finished with 15, Nietzke had a season-high 11, Nichole Twitchel had seven, Chiles and Amanda Darrow scored four apiece, Deere had three and Lang chipped in one.
Lansing next plays at 6 p.m. Friday at Mill Valley in a return to Kaw Valley League action. It will be the Lions' final game before winter break. Andrews said he is looking forward to the break so his squad can tweak a few areas - particularly defense - before making the major league push in January and February.
"As a team, we really have to dig in on defense over Christmas," Andrews said. "I'm looking forward to having six practices over Christmas. I don't know if they are, but I am."
BONNER SPRINGS 51, LANSING BOYS 46
The Lansing High boys basketball team turned in a repeat performance of its season-opener Wednesday night when it dropped a five-point decision to Bonner Springs in the fifth-place game of the Bonner Springs Metro Prep Classic. The only difference was the name of the opponent.
Just like during the season-opener against Hogan Prep, Lansing (2-2 overall, 1-0 Kaw Valley League) dug itself an early deficit, rallied to take the lead and then let the game slip away in the final minute.
Bonner 51, Lansing 46.
Bonner (2-3, 0-1) jumped out to an early lead before Lansing came back to take a 9-6 lead after the first quarter. The second quarter was fairly even, but Bonner inched ahead for a 22-20 halftime advantage.
A third-quarter run by the Braves extended their lead, but the Lions clawed back throughout the fourth quarter. A pair of free throws by senior Chris Wagner in the final minute tied the game at 46-46, but it wasn't quite enough. The Braves sank their free throws down the stretch and hung on for the victory.
Wagner led the Lions with 20 points. Jeff Slater joined him in double figures with 13 points. Matt Warner added eight, David Kern and Kyle Miller scored two apiece and Jeff Jackson chipped in one.
Although both Lansing and Bonner are Kaw Valley League teams, the game was part of a tournament so it does not count in the league standings. LHS returns to league action at 7:30 p.m. Friday at Mill Valley.