Lions cruise against Ward, Basehor
The Lansing High wrestling team made short work of its first two dual opponents of the season when it played host to Bishop Ward and Basehor-Linwood on Wednesday night.
It was evident before the duals began that Lansing would win both because both Ward and Basehor had so many open slots at various weight classes. Ward had three open classes, which automatically gave 18 points to Lansing, the No. 1 ranked team in Kansas Class 5A. Basehor had six open weight classes.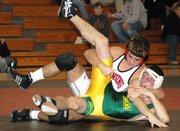 The real test Wednesday was for Lansing's wrestlers who were able to compete would protect their home mat. Judging by the final scores, LHS held its own just fine. It pounded Ward, 69-9, and then smoked Basehor, 60-15.
Against Ward, sophomore Dennis Wood (103 pounds), junior Scott Keller (112) and senior Jeff Terrill (152) all picked up wins by default because they didn't have an opponent to wrestle.
Sophomore Chance Thackston (119) was the first Lion to wrestle. He set the tone for the night by pinning Jeff Santa Cruz in just 55 seconds. Bobby Hamilton (125) was up next, and he delivered a first-period pin. So did sophomore Nick Flynn (130), who took just 36 seconds to stick Salvadore Aquino.
Junior Kyle Buehler needed a bit more time to earn a pin at 135 pounds, but he made the most of the extra minutes. He built a 13-0 lead during the first period and extended his advantage to 15-0 before tallying a second-period pin against Ed Cahill. At 140 pounds, senior Sean Flynn notched a first-period pin. After two hard-fought periods, junior Kyle Buehler stuck Brian Hoytal in the third.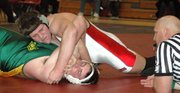 Senior Lance fink (160) won his match, 7-2. Senior Jordan Pratt suffered the only Lansing loss of the dual as he dropped a 7-2 decision to Blane Hachinsky. Then sophomore Brad Terron (189) and senior Logan Ryan (215) both collected first-minute pins to close out the dual.
Basehor proved to be a slightly tougher foe, but it also was lacking in numbers. That gave Lansing a major advantage. Wood and Keller again notched wins by forfeit. Then Thackson collected another first-period pin, this time against Travis Inlow.
Hamilton was pinned in the first period of his match, Then Nick Flynn dropped a tough 9-6 decision to Basehor senior Trevor Pipkin for just his second loss of the year.
The Lions got back on track when Buehler stepped onto the mat. He raced to a 13-1 lead in the first period and later collected a major decision against Zach Davis, 18-1. Sean Flynn followed with a 17-4 victory against Dustin Weimer. Then Grape, Terrill and Fink all won by forfeit. So did Terron at 189.
Pratt bounced back from his earlier loss by delivering one of the most intense matches of the night when he squared off with Will Peterson. Pratt dominated the first period with a flurry of take-downs as he surged to a 6-1 lead. Peterson rallied in the second and trimmed Pratt's lead to 7-4. That's when Pratt erupted. He tossed Peterson and aggressively pursued a pin. He was unable to get it, but he pushed his lead to 14-6 with one minute left. Peterson responded with a flurry of escapes and take-downs to pull within 14-9 before time expired.
Freshman Tyler Strouhal made his varsity debut at 215 against Basehor's Josh Bowen. Strouhal dominated the first 30 seconds of the match and nearly pinned Bowen. Strouhal pursued the pin too aggressively, however, and he got caught out of position. In an instant, the tables turned and he found himself pinned on his back for a loss.
Ryan bumped up to heavyweight against Basehor to face Ethan Douglas. Although Ryan gave up a lot of weight, it made little difference. He manhandled Douglas from the beginning and earned a pin in 1:54.
The Lions will be off for two weeks for winter break. They will return to action at 5:30 p.m. Jan. 5 at Santa Fe Trail against Trail and Perry-Lecompton.