Motocross shop opens on Main St.
A new Main Street business owner sees a silver lining in traffic congestion.
Jeff Becker, owner of D&J Powersports, 214 N. Main St., thinks the bottleneck resulting from the road-widening construction set to begin in the spring or summer will only help his store.
"I figure traffic will be slowed down, so people might look around and stop in," said Becker.
The shop, which offers motorcycles, parts, accessories, service and repairs, opened Dec. 1.
Becker said his is the only shop in the area that concentrates on motocross bikes.
Becker had another motocross shop for one year in the Turner neighborhood of Kansas City, Kan., but it was located in an alley, which meant low visibility for attracting new customers.
"Our neighbor there didn't even know what we were doing," Becker joked.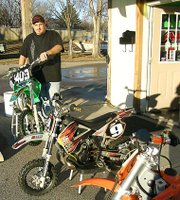 He decided to open a shop here, he said, because of a chance conversation with Randy Asher, father of his friend Jeff Asher.
Randy Asher owns the building where Becker set up shop and had run Main Street Motors from that location. When Becker complained about his Kansas City shop's location, Asher told Becker he could rent the old Main Street Auto Body & Tow building because he was building a new office for himself at 212 Main St., just behind D&J.
Becker said much of his business will be mail-ordering parts and bikes, which helps him to keep his overhead low by not requiring as much stock to be kept in-store.
He said the advantage for customers of ordering through his store, instead of directly from wholesalers on the Internet, is "the comfort and ease of being able to come in and shop and see a friendly face to talk to."
Also, Becker said, between himself and the shop's mechanic, Damon Alyea - the 'D' in 'D&J' - they have more than 25 years experience in servicing motocross bikes.
Becker said that although this was the off-season for motocross in the area, business had been brisk for a new store.
He has already sold three of the five 2006 model bikes he recently ordered and had two walk-ins Monday, the first day he put bikes in front of the store.
Becker, 30, got into the business as a former amateur motocross rider. Starting at the age of 14, he had enjoyed the sport in his spare time until he fell off a roof at a construction job a year ago and shattered his ankle.
Becker decided to use his worker's compensation settlement toward helping others enjoy the sport, he said. His injury prevents him from competing, but he's able to participate through his two sons, Austin, 7, and Dillan, 5, who race motocross.
Besides motocross bikes and parts, Becker also deals in parts and repairs for ATVs and Japanese street motorcycles. While there are plenty of shops around that cater to Harley-Davidson riders, Becker said there were few in the Kansas City-metro area that specialize in what he called "metric cruisers."