Postgraduation plans filled with work, college courses
Ian Harris probably would have been taking the easy route had he chosen to stay at Lansing High School for another semester.
Instead, Harris chose to graduate from LHS this month so he can work and take college classes starting in January. But it's no laid-back schedule he's looking at. Harris plans to take a full load - four classes - at Kansas City Kansas Community College and work 40-50 hours per week as a lifeguard at Great Wolf Lodge in Kansas City, Kan.
Harris said he planned to take prerequisite classes at KCKCC for two or three years and later transfer to the University of Kansas, where he hopes to major in journalism.
Right now, Harris said, he's unsure of what type of journalism he wants to do.
"It doesn't really matter to me," as long as it involves writing, he said.
"Writing is what I do," he said. "Writing is what comes naturally to me."
Although he's considering journalism, Harris said he also enjoys creative writing, including songwriting.
The decision to graduate early may give Harris a little more time to decide on his career, but he said he also was eager to start - and finish - college.
"Even if it just means I get out of college a semester earlier than most people, I just want to get done," he said.
Harris will leave LHS having learned a lesson that likely will help him to succeed in college: you can't get by without studying.
"I've tried that for three years, and it doesn't work," he said.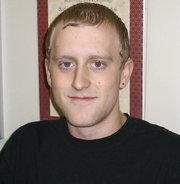 Ian Harris
Parents: Glinda and Brian Harris
Favorite teacher ever: Melanie King, English, Lansing High School
Best advice received: Believe nothing of what you hear and only half of what you see.
What he'll miss most about high school: My senior lunch table.