When the Lansing High boys basketball team stepped on the court last year, the strategy was simple: Send the starters out, go hard and hang on for as long as possible.
The strategy tended to work well for about three quarters, but then trouble arose. The starters - then-juniors Cody Mohan, Chris Wagner, Matt Warner, David Kern and Jeff Slater - eventually wore down. Fatigue set in and close games slipped away.
That was the trouble with not having much depth. Then-sophomore Jeff Jackson played sparingly when the starters were in foul trouble, but that was the extent of it. Quality minutes off the bench were tough to find, so Lansing basketball became a five-man show.
That hasn't been the case this year, and LHS coach Don Allen said he liked the change. Jackson is a year older and wiser after a hard offseason playing summer league and hitting the weights. Junior transfer Kyle Miller is easing into the system. Seniors Javen Kelly and Austin Reynolds have played with confidence this year and proven to be reliable options.
"They're going to get their opportunities. It's their job to make the most of it," Allen said. "So far those guys are doing extremely well for us."
Allen isn't the only one who has recognized the difference the reserves have made this season. Wagner said the starting five appreciated the contributions as much as anybody because they knew they could take a breather and trust that the game was in good hands.
"We're playing seven- or eight-deep, and that makes a big difference," he said. "That rest helps. With a two- or three-minute rest at a time, you can go back out with fresher legs."
Jackson, Reynolds, Kelly and Miller have made the most of their on-court opportunities. Kelly played almost 10 minutes of turnover-free basketball on Saturday against Harrisonville and was on the court when Lansing stretched a one-point lead to a 32-20 lead before halftime. Reynolds has provided strong defense in the post in all three games while contributing two blocked shots.
"It feels good to be able to contribute a little bit more," Reynolds said. "Last year I had a lot of turnovers and dumb mistakes. I've been able to take care of that and give Jeff Slater two- or three-minute breaks. I just have to do the little things."
Jackson's contributions have been the most noticeable. He is averaging seven points per game and poured in a career-high 14 against Harrisonville. He also has the third-best free throw percentage on the team (78.5) after sinking 11 of 14 shots from the stripe.
"Jackson is starting to be a little more aggressive about things, and he's figuring out that's what he needs to do," Allen said.
Miller's progress has been a bit slower because he was new to the program and had to learn a new offensive system. Allen said Miller had made good progress so far and would be a greater asset to the team after winter break.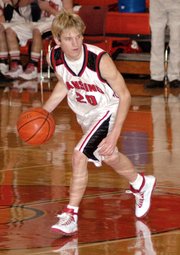 "He still doesn't know some of the calls, but I think after Christmas he's going to be a completely different player, and we all knew that going into it," Allen said. "That's why we haven't put a lot of pressure on him yet. But he's a smart kid and he works hard. It's just a matter of time until he starts really fitting in and helping us quite a bit."
Between the four, Allen said he has been comfortable going to the bench early and often during games this season. As long as they continue to play well, he said he will remain confident putting them on the floor.
"We're not asking them to score a bunch. We're not asking them to steal a bunch. We want them to come in and play good, solid basketball for us," Allen said. "And when they get their opportunity, we want them to make the most of it."
Lansing (2-1 overall, 1-0 Kaw Valley League) next plays at 7:30 p.m. Friday at Mill Valley (2-0, 1-0) in its final game before winter break. Mill Valley won both of last year's meetings. The first was a close 51-45 contest. The second was a 59-43 blowout.