Retirement arrives for seniors' advocate
As Jessie Higgins reflected upon her retirement, she recalled childhood memories of visiting her next-door neighbor on Mary Street in Lansing, Grandma Bridges.
"Now why would I do that? It wasn't for the cookies," she said.
But she had earlier answered her own question.
"Really my heart's here, with the seniors," Higgins said.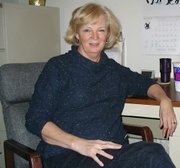 Higgins, who works for Leavenworth County Council on Aging, will retire from her position on Friday. She has worked at the agency for the past five years, after previously working there for three years. In between, she worked for Kansas Department of Social and Rehabilitation Services in child support enforcement for 21 years.
Higgins said she returned to Council on Aging because "I missed working with seniors." She took on the newly created position of leisure and learning coordinator.
When she started the program, Higgins said there were about 15 activities per month. Now, there are 50-60 activities each month, which include exercise classes, day trips and visits from guest speakers.
"It has just ballooned," she said. "The growth has just been phenomenal."
The agency, Higgins said, works to provide opportunities for people who are 55 years and older to meet and socialize with others their age. Higgins said the goal was to keep seniors socially, physically and mentally active.
"I really feel the agency does that," she said.
Though she clearly loves her job, Higgins started considering retirement earlier this year when she was helping someone else fill out a retirement eligibility form. After making a phone call, Higgins found out she herself was eligible to retire in July.
She wasn't immediately sure about retiring. She "dabbled" with the idea in July, she said, decided to retire in October; and then she changed her mind and waited until this month. Despite her indecisiveness and mixed emotions about retiring, she will do it "for real" this week.
Higgins said a lot of thought, prayer and input from her husband, Terry, convinced her it was time.
"I feel the calling," she said. "It taps on your shoulder and whispers in your ear, 'It's time to go.'"
R will offer her opportunities to pursue her hobbies, such as gardening and raising service dog puppies. She wants to travel and spend more time with family, she said. She also intends volunteer at a nursing home.
"There are other things I want to do while I'm still young enough," Higgins said.
Continuing her work with seniors will help her transition, she said. Plus, Higgins, 56, intends to participate in activities at the council.
"The door isn't closing on me, so it's not that sad," she said.
Though Higgins now will be spending more time at her Leavenworth County home than at the Council on Aging, she said she's confident the programs there would continue to expand. Interviews for her replacement are taking place this week, she said.
"I know they're going to expand here," she said. "The more they want, the more we want to give."