Senior already finished massaging career plans
Tasha Buselt is moving full-speed ahead.
A Lansing High School senior, Buselt is graduating early this month and will begin taking classes in massage therapy Jan. 9, 2006, at Pinnacle Career Institute in Lawrence.
Buselt is on the fast track - she'll be able to start her career when many of her classmates are just getting started in college. Her massage therapy program will only take nine months, she said.
When she finishes her coursework in September, Buselt should be ready to start working. She will earn a certificate in massage therapy, and she said the school can help her with job placement and also provides most of the materials she needs, including a table, sheets, oil, books and a uniform.
Buselt said she initially would like to work at a hospital or chiropractor's office. What drew her to massage therapy, she said, was her desire to help people with injuries.
"But I can't deal with blood," she said.
She made the decision to go into massage therapy during the summer, Buselt said. She had originally wanted to study law, she said, but she didn't think it would be compatible with her other goal, to raise a family. She said she hopes to eventually open a shop out of her home so she can work and take care of her children.
In school, Buselt said she plans to study prenatal massage.
"I want to work with babies, kids and women," she said.
She also has plans to add acupuncture to her resume in a few years, she said.
Buselt is able to attend the school thanks to a $4,000 scholarship from the institute, a Pell grant and student loans.
Fortunately for her, she'll be able to start earning money to pay back her loans even before she receives her certificate. After two months in the program, Buselt said, she will start working clinical hours at the school, where she will get paid while honing her skills. She won't even need a job outside of school, she said.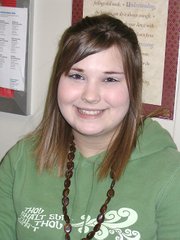 Tasha Lynn Buselt
Parent: Jacqueline Buselt
Favorite teacher ever: Claudia Logue, social studies, Lansing High School
Best advice received: My friend once told me, "Never look back on the past when the future is filled with dreams."
What she'll miss most about high school: I will miss my teachers and having lunch with my best friend Samantha Parr. I will also miss my other friends and all the homework.