State championship is the prize Flynn eyes
Strong showings at two preseason tournaments gave plenty of indication that Lansing High senior wrestler Sean Flynn was poised for a fast start to the high school season.
Anybody not convinced by his fourth-place finishes at the Fall Brawl in Olathe and the national tournament in Denver, Colo., need look no farther than the Nov. 29 Red-White scrimmage for further proof that Flynn had come into the season as sharp as ever.
Flynn, wrestling at 140 pounds, opened the season that night with an exhibition match against teammate Kyle Grape. The match was expected to be a back-and-forth thriller, but Flynn turned the tables and dominated against Grape, a defending state champion.
Flynn's scrimmage performance was no fluke. Since then he has compiled an 8-0 record and won championships at the Spring Hill Tournament and the Eudora Tournament of Champions.
"I trained a lot this summer and I knew I was going to be able to do well," Flynn said. "(Beating) Grape gave me a confidence boost more than anything."
Not that Flynn had many reasons to doubt himself in the first place. After all, he is beginning his fourth year as a varsity wrestler at LHS. He is a three-time state qualifier - twice in Class 4A and once in Class 5A - and collected his first state medal last year when he placed sixth at state at 130 pounds.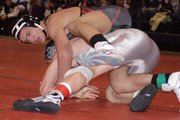 "I kind of got that hurdle out of the way because I don't have to worry about that any more," Flynn said of trying to medal. "Now I don't need to place at state. I need to do better than sixth and hopefully win a state championship this year."
Flynn said he believed a state title was a realistic goal for a number of reasons: He is experienced; he is determined; and he has the supporting cast to help him achieve his goal.
Flynn trains with Grape every day in practice because the two are of comparable weights. Flynn said he also squared off with junior Kyle Buehler, who is wrestling at 135 pounds this year but placed fourth at state at 125 last year. Occasionally Flynn will pair up with 160-pounder and state qualifier Lance Fink, as well.
"I try to wrestle bigger guys so I can feel the strength of them," Flynn said, crediting his teammates on the No. 1-ranked LHS wrestling squad with helping him improve. "It helps me because I know I'm not going to slack off at practice. I'm getting better at each and every practice."
Flynn also likes his chances because he already has defeated some of the top wrestlers in the state in his weight class. He handed Matt Westin of Mill Valley a 4-1 on Saturday in the final match at Eudora. The victory marked the 102nd of Flynn's prep career.
"That guy I just wrestled is going to be one of the tough guys I'll have to beat for a state championship and I think I can get a lot better than I wrestled that match," Flynn said. "So I'm pretty sure that the state championship is a really realistic goal."
BUEHLER SOLID AGAIN
Buehler upped his record to 8-0 by winning all six of his matches at Eudora.
Buehler has been nearly flawless in almost every match this season, and few decisions have been close. The championship match against St. Thomas Aquinas' Mark Millstead was no exception as Buehler picked him apart and won 8-0.
GRAPE FALLS IN FINALS
A bit of fatigue and one tactical mistake led to Grape's first loss of the season when Hunter Madl of Blue Valley pinned the Landing junior in the first period of the championship match at 145 pounds. The loss came during Grape's eighth match in two days. He didn't receive a single bye in pool play and had to wrestle five matches before bracket competition began. The loss dropped his season record to 9-1.
RYAN ROLLIN'
Senior Logan Ryan maintained his perfect record on Saturday at Eudora when he placed first at 215 pounds.
Ryan, who finished eighth at state last year, went 6-0 at Eudora and improved to 8-0 overall on the season.
TWO PLACE THIRD
Seniors Fink and Jeff Terrill both notched third-place finishes in their respective weight classes.
Fink compiled a 5-2 tournament record on his way to placing third at 160 pounds. Meanwhile, Terrill also went 5-2 at 152 pounds and dominated Ben Holloway of Hiawatha, 14-0, for the consolation championship.