Allen asks
LHS

boys to dig deeper
By Lansing High boys basketball coach Don Allen's assessment, junior forward Jeff Jackson was the only player who matched Mill Valley's intensity Friday night as LHS dropped a 60-44 decision in Kaw Valley League action.
"I'm proud of the way Jeff Jackson showed up tonight," Allen said. "We talked about the fact that when there's loose balls, when there's the opportunity to get tips, when there's opportunities to come back and play catch-up and tip it away somewhere, he (was doing those things)."
As for the rest of the Lions (2-3 overall, 1-1 KVL), Allen said he didn't see the same spark. That must change, he said, if they hope to play to their potential and be among the top teams in the league.
Allen said he was surprised that his players hadn't pushed themselves into a higher gear to match Mill Valley's intensity, especially considering Lansing is a veteran group with five senior starters.
"If you can't put five seniors on the floor that understand how to get themselves mentally prepared to play a basketball game, then I'm not sure we can do anything else," Allen said. "I hope that after tonight they understand that there's another gear, and we need to be able to find it, and we need to be able to compete at that level."
Photo Gallery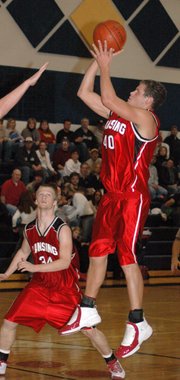 LHS boys fall at Mill Valley, 60-44
The Lansing High boys basketball team dropped a 60-44 decision at Mill Valley on Friday night during Kaw Valley League action.
Allen said he was partially responsible for what happened because he didn't think he'd made practices competitive enough to force a higher level upon his players. He also said there is an obligation for the players to find that level for themselves.
By matching the opponent's intensity level, Allen said he was referring to a variety of things. That meant knocking down open jump shots from close range. It meant showing poise with the basketball in your hands. It meant playing tough defense and trying to prevent an opponent from catching a pass. Ultimately, he said, it boiled down to playing hard and then pushing yourself even harder.
"At some point you've got to reach in," he said. "Intensity : you can't stand around and talk about it. It's something where, as an individual and as a team, a decision simply has to be made: How hard are you going to push yourself and how hard are you going to push your teammates every day?"
The Lions have 12 more days to figure out how they're going to reach that higher level before they return to the court. They open 2006 with a 7:30 p.m. contest on Jan. 3 against Tonganoxie.
"I think they're trying, but they just don't understand that the bar is higher than that," Allen said. "These guys talked about what they wanted to do this year, and we set some goals, and we've got a ways to go. But this isn't the world for us. It's early."
NOTES
Chris Wagner leads the Lions with 16.2 points per game : Jeff Slater averages 11.8 points per game : David Kern and Matt Warner average 6.2 points apiece : averages six points per game off the bench.