Lansing duo set sights on nationals
LHS

graduates find success in forensics at Kansas City Kansas Community College
Two Lansing High School graduates are helping Kansas City Kansas Community College make a name for itself in college forensics circles.
Leslie Goodlin, a sophomore at KCKCC, already has qualified for the second consecutive year for the American Forensic Association's National Individual Events Tournament, March 31-April 3 at the University of Florida in Gainesville. She'll be paired with North Kansas City High School graduate Chris Dark and will compete in the duo interpretation.
Now Goodlin is teaming with Brett Culbert, a former classmate at LHS, on another duo interpretation, which they hope will be good enough to qualify for the nationals.
"We plan on it," Goodlin said.
They're already off to a good start.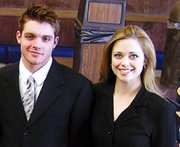 Earlier this month, Goodlin and Culbert teamed up for a forensics event the first time since they were at LHS. The duo interpretation they performed at the Cameron Classic Christmas Forensics Tournament won first place over competitors from 30 four-year colleges and universities.
To listen to the two talk, they won the title in spite of not doing the necessary groundwork.
"We didn't have time to put forth the effort that's needed," Culbert said. "We just did it."
Added Goodlin, "We just kind of winged it and relied on our talent to just carry us through. Now we have to really get to work to get qualified (for nationals) on it."
Going up against competition from four-year schools is pretty much standard for KCKCC's forensics team members, said Tom Murdock, KCKCC forensics coach. There are few other community college teams in the region, so the only alternative is to enter tournaments open to four-year colleges and universities.
"It's kind of like tennis," Murdock said. "You get as good as what you play against; we're holding our own, which is great."
Neither Culbert nor Goodlin is awed going into tournaments where they are liable to meet competition from Ivy League, Big 10, Pac-10 or Big 12 universities.
"We all go in there extremely focused, and we're kind of underdogs because we're from a community college," Culbert said. "The people kind of look at us (funny) but then we turn around and win. It's an automatic jab that we're from a community college.
Goodlin added, "They call your name at the awards ceremony, and everyone kind of looks sideways when they say 'community college.' It's pretty unusual that people from a community college can do as well as we do."
The idea for Culbert and Goodlin's duo interpretation was hatched recently. Culbert said he had read a play at a Borders bookstore that struck him as something Goodlin should read.
"She came down to Borders and read it. We bought the script, and in two weeks, we put it together," Culbert said.
The two had known each other from performing in productions and participating in forensics at LHS. Though they are both sophomores at KCKCC and are in their second year on the forensics team there, they hadn't teamed on the same project since a random forensics event at LHS.
"We were partners in high school once for improvised duet acting," Culbert explained. "Just for fun we just tried it out because you don't have to prepare anything; you just go in there and improvise something. It was fun."
Goodlin said the two, however, had been planning to team up again.
"We've always known that we would do well together, and people have kind of told us that we have really good chemistry and that there's potential there to have a powerhouse duo team," Goodlin said.
Murdock, their coach, said qualifying for nationals should be within reach for Goodlin and Culbert.
"There's an extremely good possibility they'll qualify their duo," Murdock said. "And both are very close to qualifying in some of their individual events. : I don't see any reason why they wouldn't qualify."
During the semester break at KCKCC, Goodlin and Culbert will continue refining their presentation. They'll also work on individual forensics events: Culbert also competes in program oral interpretation and prose; Goodlin's other events are program oral interpretation and dramatic interpretation.
To qualify for nationals, they must score high finishes in three tournaments. Their next chance comes Jan. 14 and 15 at the Midwest Mixer at Northwest Missouri State University in Maryville.
"That's a swing tournament, so what that means is it's back-to-back tournaments, one on Saturday, one on Sunday," Culbert explained. "We can actually qualify for nationals if we do well in both tournaments."
They're also ready to make their professional acting debuts, in the Just Off Broadway Theatre's production of "Sparts Radio" in Kansas City, Mo. Culbert will play Joey Hartmeyer and Goodlin will play Kim Sherman, supporting roles in the play, which opens at 8 p.m. Jan. 27 at the Just Off Broadway Theatre, 3051 Central St., Kansas City, Mo.
Murdock, their coach, is also in the play. He first happened upon Culbert and Goodlin when he directed them last year in the KCKCC production of "Carnival."
"That's kind of where the beautiful friendship between us and Tom Murdock began also," Goodlin said. "He kind of took us under his wing in that and in forensics. He saw that we had all this talent and he wanted to help us hone it. So I consider him a mentor : we owe a lot of our success to him and his investment in us."
Both Goodlin and Culbert hope to parlay their talents into careers down the road. Goodlin said she may start focusing more on the musical side, singing and songwriting. She's considering attending the University of Missouri-Kansas City and continuing performing in regional theater.
Culbert said he's not sure where he'll wind up after KCKCC, perhaps at a California university, but he wants to continue performing.
"My goal is to act professionally - that's the ultimate goal - and to live off of that," he said.
See them act
Lansing residents can see Lansing High School graduates Leslie Goodlin and Brett Culbert in their professional acting debuts at the Just Off Broadway Theatre production of "Sparts Radio" in Kansas City, Mo.
Tickets can be purchased online at spartsradio.com. Telephone ticket sales start Jan. 2 at (816) 235-2700. Tickets also will be available at the Just Off Broadway Theatre box office prior to the performances.
Here's the performance schedule:
¢ 8 p.m., Friday, Jan 27
¢ 8 p.m., Saturday, Jan 28
¢ 2 p.m., Sunday, Jan 29
¢ 7 p.m., Tuesday, Jan 31
¢ 7 p.m., Wednesday, Feb1
¢ 7 p.m., Thursday, Feb 2
¢ 8 p.m., Friday, Feb 3
¢ 2 p.m. and 8 p.m., Saturday, Feb 4
¢ 2 p.m., Sunday, Feb 5