LMS

choir performs for senior citizens
Lansing Middle School seventh- and eighth-grade choir students spent their last day of the semester on tour.
It wasn't exactly a flashy tour, with lights or dressing rooms or roadies, but it entertained the audience just the same.
About 80 choir students dressed in red, green and white, some wearing bell necklaces or ribbons in their hair, visited area nursing homes to perform an abridged version of their Christmas concert. They stopped at Colonial Manor, Twin Oaks Assisted Living and Retirement Community in Lansing and Homestead Assisted Living and the Veterans Administration Domiciliary in Leavenworth.
Photo Gallery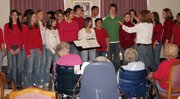 LMS choir tour
Lansing Middle School seventh- and eighth-grade choir students toured area nursing homes on Friday, Dec. 16, to spread holiday cheer and perform songs from their winter concert.
LMS choir director Sherri Schwanz said this was the third year she had taken the choir on a Christmas tour. The performances allow students "just to spread what they've learned and share with others," she said.
The students started practicing the Christmas songs, including "You're a Mean One, Mr. Grinch," "Baby's Born in Bethlehem" "In the Bleak Midwinter" and a "Season's Greetings" medley, in October, Schwanz said. The choir performed a full show at LMS on Dec. 13, but Schwanz said she picked just a few songs at each stop on the tour for students to sing.
The mix seemed just right at Colonial Manor, where a resident chimed in during "Jingle Bells" by jingling a bell on her Santa hat.
Jennifer Carpenter, the activities director at Colonial Manor, also showed her appreciation for the group's visit.
"This year has just really been great. Merry Christmas to you all!" she said.
At each stop, students could visit with relatives or people they knew who lived at the home. Parents who work at the VA also were invited to see their students perform there.
Friday seemed like an ideal day for the choir students: Not only did they get out of a full day of classes - they had to take their finals beforehand, Schwanz said - they had a pizza party when they returned to school in the afternoon.