Nagging problems plague
LHS

girls
Lansing High girls basketball coach Keith Andrews is thrilled that his team is 2-0 in Kaw Valley League play.
If the Lions want to make a serious bid for a league championship, though, then some serious changes need to be made, he said. Poor free throw shooting, sloppy ball-handling and an inconsistent rebounding effort contributed to LHS blowing comfy leads before beating Basehor-Linwood and Mill Valley.
"It's almost scary for us," he said. "We've got to learn how to beat somebody and beat them handily. We're on the verge of it, and then we let up. We're almost there and then we do something stupid. We have a couple trail fouls. We won't take a charge for whatever reason. We're scared to do that. We've still got to get those key block-outs.
"It's frustrating and scary at the same time," he added. "But hopefully we can keep holding on at the end. The law of averages catches up with you when you keep it close after a while."
Exactly how Lansing (3-2 overall) will fix those problems remains to be seen, but Andrews said the extra practice time during winter break should help. The Lions played five games during the last two weeks and had multiple snow days, meaning there was little time to practice and focus on fundamentals. Andrews said he planned to focus on free throws, rebounding, defense and ball-handling specifically during winter break.
"The kids are excited that they're going to get some time off from school, so we'll practice and get some things worked out," Andrews said.
Although Andrews has been frustrated with some of Lansing's areas of weakness, he said he also has seen plenty of things he has liked during the first five games. For one, his players have made their free throws once the game reached crunch time. Amanda Radovich, Nichole Twitchel and Katie Nietzke combined to swish seven of nine free throws during the two overtime periods of Friday's 67-62 victory at Mill Valley.
In addition, the Lions have proven to their coach that they can play with poise during close games, no matter what lineup is on the court. They have developed greater depth during the past few games and received strong contributions off the bench from sophomores Amanda Darrow, Christine Cordes, Morgan Chiles and freshman Brittney Lang.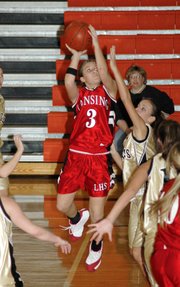 "We're getting deeper game by game," he said. "If we can just keep developing the bottom end of the bench, we'll be OK.
Overall, the Lions have played their best basketball this season during the first half and the fourth quarter of games. By tweaking up their problem areas, Radovich said they hope to solve their third-quarter woes and put together a complete game.
"We've got to get better at just putting teams down and stepping on their throat," she said. "We've got to have more fire. We've got to be more cutthroat. After Christmas it's crunch time, so we've got to get after it after Christmas."
BENCH PLAY GIVES A BOOST
Andrews didn't want his squad to rely solely on the scoring punch of its starting lineup this season, and so far the reserves have done a solid job contributing each game.
Starters Riann Deere, Rachel Darrow, Elizabeth Cristiano, Twitchel and Radovich have provided 72 percent of the offense this season. Reserves Amanda Darrow, Cordes, Lang and Nietzke have added 28 percent. of the scoring.
Nietzke is leading the charge off the bench with eight points per game. Meanwhile, Amanda Darrow is averaging 4.4 points per game, bolstered by her 12-point effort against Atchison.
RADOVICH CONTINUES TO SCORCH NETS
Radovich, has upped her scoring average from 15.2 points per game last year to 18.2 this year. The 5-foot-11 senior has scored in double-digits in all five games this season. Her 30-point effort Friday against Mill Valley was a career-high.