Shawnee — Katie Nietzke's eyes never gave it away, but she was nervous.
With the Lansing High girls basketball team trailing by four to Mill Valley in overtime Friday night, Lansing's sophomore point guard looked disturbingly comfortable. It was almost as though she already knew the result of her team's eventual 67-62 victory.
When she stepped to the free throw line with Mill Valley's rowdy student section going bonkers behind the goal, Nietzke didn't flinch. Instead, she calmly sank both shots from the stripe. Moments later she showed little emotion after draining a three-pointer from the top of the key. Same thing when she sank a 15-footer to force a second overtime.
With the game tied in the second extra period, less than a minute to go and Mill Valley going for the win, Nietzke again rose to the occasion. Her steal at midcourt, coast-to-coast layup and ensuing free throw after being fouled on the bucket finally gave LHS command for good.
"That was so stressful," she later admitted.
Few in attendance would have guessed that thought ever crossed her mind. Nietzke looked so calm and collected, so kick-up-your-feet comfortable during crunch time.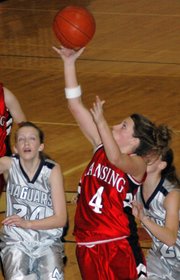 She scored a career-high 17 points Friday night. Thirteen of them came in the two overtime periods. In fact, she scored all seven of Lansing's points in the first overtime.
"Katie completely took over the game," senior forward Amanda Radovich said. "I think she was the difference in the game today."
Added coach Keith Andrews: "She wanted the ball."
Andrews knew it was just a matter of time before Nietzke had a breakthrough game. He said he saw signs that she could be a special player when he placed her on varsity as a freshman. During her first season she didn't shy away from putting up big shots. She scored a season-high 11 points during a 68-55 victory at Turner and chipped in nine-point efforts against Silver Lake and Mill Valley. She averaged 4.8 points per game for the season.
This year she has boosted her production to eight points per game. She tied her career-high with 11 points against Basehor and then topped it against Mill Valley.
"I've been watching her grow up since last year," Radovich said. "I knew she was going to be an amazing ball player later in the year. She's got a lot of fire in her."
Nietzke said her confidence as a player is growing by the game, and she said a lot of that had to do with knowing that her teammates believe in her.
"This year I'm a little bit more confident with what I say with my team because I'm not the freshman anymore," she said. "I feel confident in what I have and what I can do with this team now that I have a year under me. I feel that my team is very confident in me also, so that gives me a little boost."
Nietzke's teammates gave her a vote of confidence before the season ever began, and she proved to be a fearless scorer right away. In the season-opener, the 5-foot-5 Nietzke drove hard to the basket and took an elbow to the eye from Topeka Seaman's Breanna Lewis, a 6-foot-5 forward.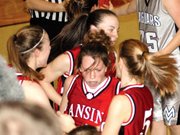 "It swelled instantly. It was bad," Nietzke said, laughing about the shiner that she continues to sport.
The blow to the eye left a dark bruise on Nietzke's cheekbone, but it hasn't blurred her vision when it comes to shooting. In fact, she said she prefers to have the ball in her hands when the game is on the line.
"To me, I'd rather have the messup on me than having it on somebody else," said Nietzke, who plays year-round basketball on her club team in the Mid-America Youth Basketball League. "I want it to be my responsibility because I am the point guard when I'm out there and I feel like it's my job to take care of that."
As long as her teammates will trust her to do it, Nietzke said she looks forward to taking big shots in the future, too.
"It's very exciting to know that my team had faith in me," she said. "But I also had faith in them that they would trust me with the ball like that to be able to lead the defense and offense."