Pratt knows varsity spot can be his on 'any given Monday'
There's a certain level of glory that comes with being a member of the No. 1 ranked wrestling team in Kansas.
But a look beyond the headlines and hype reveals that a constant dogfight exists behind the scenes. Buckets of blood and sweat are sacrificed in the spirit of competition on the practice mat as teammates scrap to claim the lone varsity position in each of 14 weight classes.
The fiercest competition tends to brew at the middle weights - 152, 160 and 171 pounds - where a daily war is waged for control of the varsity position. Perhaps no Lansing High wrestler is more familiar with those battles than senior Jordan Pratt.
Pratt, a four-year wrestler at LHS, has spent almost his entire career walking the fine line between junior varsity and varsity, fighting for a position and being the odd man out.
"You know, we're number one in the state. That's why we are. We've got depth and so many good wrestlers," Pratt said. "It's tough sometimes, but you've just got to keep fighting for it and keep trying to get better.
Pratt is fighting for his varsity life this year. He's a senior, so he is down to his final chance to be the top dog in his 171-pound weight class.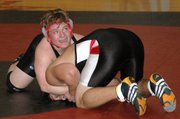 But life is about to become tricky again. Just like last season when Pratt posted a 6-5 varsity record at 160 pounds during the first few weeks of the season, he again is 6-5. Just like last year, the Lions are about to get a few other top-tier wrestlers back. Junior Casey Caton - a state qualifier last year at 160 - finally is recovering from having his tonsils removed and will battle for a spot at 152 or 160. Meanwhile, senior Dennis Kessler - a 2005 state qualifier at 152 - is about to become eligible again, and he is expected to battle Pratt for the varsity position at 171.
Depending on how everything shakes out, a potential showdown between Kessler, Fink and Pratt may loom on the horizon at 171. For his part, Pratt said he wants the spot and is eager to work for it.
"I've been thinking about that a lot," he said. "I've just been working hard in practice and trying to get in better shape, trying to lasso some (opportunities) and trying to get better."
So many talented wrestlers vying for limited varsity positions could make for some tough coaching decisions, but LHS coach Ron Averill said he lets his athletes settle things on the practice mat during wrestle-offs every Monday that determine varsity positions. He said he expected to see some heated battles the rest of the season.
"I don't anticipate a lock in there," Averill said, hinting that he expected some of the varsity positions to vary each week based on the wrestle-offs. "All of those guys have really been stepping up. In that logjam, we just have a load of talent."
When it's time for the wrestle-offs that will determine varsity positions for the Jan. 5 duals at Santa Fe Trail, you can be sure Pratt will be right in the thick of things.
"We'll just have to wait and see what the cards have and what ends up happening," Averill said of the outcomes. "(Anything can happen), any given Monday."