Three senior Lions earn All-State honors
Lansing High football coach Bill Pekarek said he was thrilled to learn that The Topeka Capital-Journal named three LHS players to its All-State team.
The newspaper gave Class 4A honorable mention All-State accolades to seniors Matt Warner, David Kern and Ryan Robbins after they led the Lions to a 9-2 record, the best single-season mark in program history. The season of unprecedented success ended with a 36-7 loss to eventual state champion Holton.
"We think they deserve it," Pekarek said. "They were good players for us. They were very coachable, and they did what we needed them to do. It was nice to see postseason honors come their way. Of course, we think maybe they were even better than honorable mention, but it's nice to be there."
None of the honors came as a surprise because all three players had solid seasons. The only real shock was that a few more players weren't recognized, Pekarek said. Among those slighted were junior linebacker Joe Kohl, who led Lansing with 138 tackles, five interceptions and four fumble recoveries.
"I was really surprised Joe Kohl hasn't gotten something somewhere," Pekarek said. "Joe Kohl had a heck of a football year as a linebacker. He really did."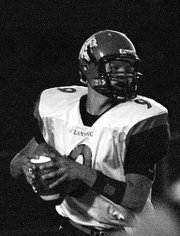 Pekarek said the Lions would miss Warner's presence at quarterback because he gave them a legitimate air attack for the first time in recent memory. After passing for 1,036 yards as a junior, Warner upped his production to 1,405 yards and 17 touchdowns while completing 91 of 175 passes. That made him the top passer in the Kaw Valley League. He also rushed for 170 yards and four touchdowns.
"We probably came the closest we've ever been to being a 50-percent passing, 50-percent running team," Pekarek said. "We were almost equal in those numbers."
Kern was Warner's favorite target this season at tight end. He caught a team-high 26 passes for 416 yards and six touchdowns. His defensive numbers also stood out as he made 72 tackles and intercepted three passes.
"In my 28 years of coaching, David Kern has played monster (linebacker) probably better than almost anyone we've had," Pekarek said. "His feet were good. He did a good job making one-on-one tackles. Also, as a tight end he caught a lot of big passes for us in big games."
Robbins was arguably the most feared defensive end in the league this season. He doubled his sack total from last year to this year by bringing down opposing quarterbacks 12 times. He also had 98 tackles, a fumble recovery and an interception. All of those stats came despite opponents changing their strategy to limit his effectiveness.
"He doubled his mark from a year ago, and people hardly passed against us because of him," Pekarek said, referring to the fact that LHS gave up 11 passing touchdowns in 2004 and only three this season.