Welcome to Santa's Workshop
PTA

event draws 350 to Lansing Elementary School
Lansing Parent-Teacher Association has done its part to help an estimated 300 children prepare for the holidays.
The second annual Santa's Breakfast was Saturday in the Lansing Elementary School gym, music room and library. It provided Lansing youngsters a place to buy kid-priced gifts for their families, craft holiday decorations, take pictures with Santa and Mrs. Claus and eat pancakes.
The event attracted at least 350 students and parents; that was the number of pancake breakfasts sold, said Robin Goebel, PTA president.
Goebel said this year's event went more smoothly than the first one.
"The lines weren't too big, and people didn't feel like they were stuck in line," she said.
Among the changes made were having four printers instead of one producing digital photos of children with the Clauses, Goebel said, and "crowd control" for Santa's Secret Shop, for which volunteers let only a certain number of children in at a time.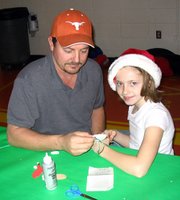 The shop featured a variety of gifts ranging from refrigerator magnets, jewelry and miniature pool tables to a desk clock, with prices ranging from 10 cents to $16.50.
This year, Lansing librarian Darlene Dean, who organized the store, had six volunteer shopping helpers who wrote out sales slips with the appropriate prices for their purchases, which were then rung up by Dean's daughter, Julie, or Christina Sanderson, a Lansing Parks and Recreation employee.
Darlene Dean said about 300 children went through the shop, most of them buying gifts for three or four family members. She estimated the shop sold about 2,000 items, the most popular ones being jewelry and "squeeze-ball" toys, which ooze goo of various colors when compressed, then suck it back in when released.
The PTA probably didn't make any money on the sales, Dean said, and all the leftover items were shipped back to Fun Services, which supplied the merchandise.
Goebel said Tuesday she was wearing the earring-and-necklace set her son bought from the shop, which came with three charms that could slide on and off the necklace.
She said that although the Santa's Breakfast was organized simply as a way for the children to have some holiday fun, the shop did provide some lessons for students, including how to save, budget and shop.
In the gymnasium, second-graders Rachel Moreno and Rebecca Pippin decorated paper Christmas sacks with yuletide-themed stamps.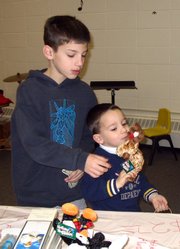 Rachel said she had a good time at the event, and her favorite part was shopping for gifts for her grandmother, uncles and parents.