Students win bikes with guesses
Lansing Elementary School students Jack Bresser and Ivana Lopez are riding new bicycles this week - and not because they were wrapped under the Christmas tree.
The students are the beneficiaries of a Boys and Girls Club outreach program.
Jack, a third-grader, and Ivana, a second-grader, each took home a 20-inch bicycle for most closely guessing the number of Peanut M&Ms in a jar that was displayed at the school.
"I think it's cool," Ivana said about her new bike. "I think it's great."
Ivana said she had another similar bike, but she liked the colors on her new one.
Jack also had a bike at home that was "just about the same" as his new one, he said, but the new one had a handbrake.
"I'm excited," he said.
The Boys and Girls Clubs of Greater Kansas City donated the bicycles as part of an outreach program to military dependents.
The club dropped off the bikes on Dec. 13 when a group of about 70 students from the Satchel Paige Elementary School Unit in Kansas City, Mo., visited to perform songs and step routines for the LES students.
Donald Lee, vice president of operations for the Kansas City clubs, said the national offices of the Boys and Girls Club had started a partnership this summer with the military called "Operation: Proud Partner." Because of that partnership, his operation has started visiting with schools in Lansing, Leavenworth and Fort Leavenworth to offer the services of the club and to gauge local interest in memberships.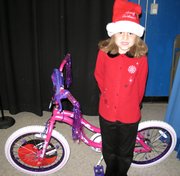 For now, Lee said, there are no plans to open a facility in the area. However, interested families can take go to the nearest facility, the Wyandotte County Unit in Kansas City, Kan.
Leavenworth County students would not be able to take part in after-school services because of the "logistical challenges" of getting them there, Lee said, but the students would be welcome to come on days when there is no school, such as during the summer or winter and spring breaks. The location might be convenient for parents who work in Kansas City, Kan., or Kansas City, Mo., to drop their students off on those days, Lee said.
Cost of the program is $15 per student per year, Lee said. The first year's fees will be waived for military families, he said.
Lee said he planned to come back to visit Lansing Intermediate School next semester. He also has talked with Lansing Middle and Lansing High schools about getting older students involved in leadership and character-development activities, he said.
Lee added that he hoped to schedule a pizza and bowling party for LMS and LHS military dependents on Jan. 7.
"We are going to put forth an effort to provide the best service we can," Lee said.
For more information about the Boys and Girls Clubs of Greater Kansas City and its outreach efforts in Lansing, contact Lee at (816) 361-3600.