Author's visit inspires student writers
For Lansing seventh-grader Lauren Jaqua, a writing workshop with Kansas author Debra Seely meant a valuable lesson in idea-generation and the beginning of a new story.
Jaqua and about 24 other seventh-graders were part of the post-lunch workshop run by Seely on Thursday at the Middle School library. Seely also gave workshops to groups of sixth- and eighth-graders.
"I learned how to gather ideas better and how to spend my time collecting ideas," Jaqua said of the workshop. "I like to write because it helps me express myself. I like descriptive writing."
Seely, author of "Grasslands," a coming-of-age story about a boy growing up in the 1880s Kansas prairie, was asked to come to Lansing by Middle School librarian Marlene Brown.
Seely, who lives in Wichita, is the fourth author to visit the students since Brown has been the librarian. Because funds necessary to invite authors come from the library budget, Brown isn't able to schedule them every year.
During the workshops Seely split the students up into tables of three or four. Each table held several copies of photos from around the time her book is set. Seely discussed how she drew inspiration from looking at older photos. She talked about making up stories or guessing how photo subjects might feel or what their backgrounds might be.
She also explained the long editing process to students - how in writing it was never the first, second or even third draft that was published; how writing required many rounds of editing.
Seventh-grade student Jennifer Totleben found that section of the talk especially useful.
"It was cool to see the author and see how she actually wrote the book and take us through the process," Totleben said.
After asking the students to brainstorm collectively about photos she displayed on an overhead projector, Seely had them choose a photo from their tables and come up with ideas for a story. Then each student, either on his or her own or with a partner, wrote as much as possible in about 15 minutes on the subject of the photo.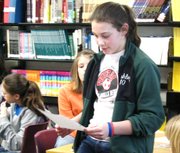 Seely had volunteers read their stories aloud and then collected the all papers to read herself.
Library aide Jan Humphreys said the visit helped students understand the editing process a little better and that it wasn't just schoolchildren who had to rewrite and rethink.
Brown agreed the author visits are valuable and willingly takes on the considerable time and effort to make visits work.
Brown usually begins coordinating events the year before authors come. Around May she looks for an author who doesn't live too far away from the district and who writes young adult fiction.
In this case, Brown chose from the authors up for the William Allen White Children's Book Award, two of which are awarded annually after voting by Kansas school students. After contacting Seely and making arrangements, Brown had to make sure the library had sufficient copies of the book (more than 50) so that each Lansing Middle School student could read it. She rotated classes so every child had the opportunity to finish.
"We have over 500 students, and they all read the book," Brown said. "We start at the beginning of the year, and every two weeks another group gets the book. So the by the time the author gets here, I have arranged it so everyone has read the book."
Seely said she was impressed that the whole school had read "Grasslands."
"They've read the book, they've done all this great work, they've made book jackets and artwork, and they're good writers," she said.
Students who attended the workshops were chosen by their teachers for their interest in writing. Twenty-five from each grade level participated.
"The kids and their teachers love it," Brown said.
Totleben said she was excited to participate in the workshop because she loved to write.
"It's a way to express your thoughts without being embarrassed to say it in front of other people," she said.
Jennifer Smisek, Totleben's classmate, agreed, saying that it was sometimes easier to write down feelings rather than talking about them.
Both said the writing workshop helped them to streamline the writing process.
"You learned how to express your details a little better, to use your imagination," Totleben said.
Jaqua, Totleben and Smisek all said they were interested in pursuing the story ideas they'd hatched in the workshop and turning them into longer stories.
WEB CONNECT:
Read the beginnings of stories seventh-graders Lauren Jaqua and Jennifer Totleben wrote at the workshop at lansingcurrent.com.