Freshman Tournament remains annual success
When a broken water main pipe at Lansing High School damaged the school's gymnasium floor during winter break, LHS activities director Gary Mattingly was forced to juggle sports schedules and make some sacrifices.
One of his top priorities, however, was saving the Lansing Freshman Boys' Basketball Tournament. He intended to make sure the event would take place for the 41st consecutive year, and it was a plan he followed through on.
Mattingly found a way to fit the tournament into an already jam-packed schedule at the Lansing Intermediate School gym, and the event took place as scheduled.
Freshman boys' basketball coach Bill Pekarek was grateful that the games went on.
"I think just the number of years we've had the tournament, they wanted to keep it going as much as they could," he said. "They didn't want to give this tournament up."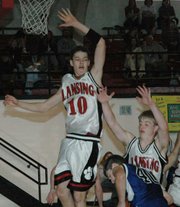 The tournament went off without a hitch, and the Lansing boys placed third. Patton edged Eudora, 51-48, in the final.
Lansing (4-2) crushed Piper, 43-23, in the first round but dropped a 72-61 overtime decision to Patton before their 32-27 loss to Gardner-Edgerton in the consolation game Saturday morning.
"We have a good group of guys," he said. "They come in and have to practice at 6 in the morning, all the hard core stuff. They've been doing a real good job."