Lansing Kiwanis president honored
The Lansing Kiwanis Club has welcomed its newest member into the Hixson Fellowship, chapter president John Wendel.
Clark Cummins, Kiwanis Club lieutenant governor for the state of Kansas, presided over a ceremony Tuesday night to bestow the honor on Wendel - the fifth such honoree from the Lansing Kiwanis Club.
The fellowship was begun in 1983 in honor of George F. Hixson, the first president of Kiwanis International. Initiation into the fellowship requires a $1,000 gift from the honoree's chapter to the Kiwanis International Foundation, which is mounting a global fight against iodine deficiency disorders, which it calls the largest preventable cause of mental retardation in children.
Wendel, who received the honor during the Lansing Kiwanis Club's regular monthly meeting Tuesday at the Western Sizzler, said he was honored and thanked his fellow club members and his wife for the recognition.
To signify his acceptance into the fellowship, Wendel received a medallion that is to be worn at high-profile Kiwanis functions. He also was given a separate medallion that can be placed in a home display.
With the honor, Wendel joins Lansing Kiwanis members Earl Johnsmeyer, Gene Young, Harry Allison and John Calhoun in the fellowship.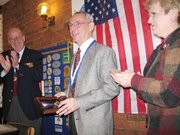 In addition to honoring Wendel, Cummins also notified the club that it was awarded an Outstanding Service Award during the Kiwanis' recent district conference.