Veteran on force named police chief
Lansing's new chief of police says his door will always be open to the community where he's been involved in law enforcement for 15 years.
About 50 people, including Mayor Kenneth Bernard, Lansing City Council members and officers from the Police Department, turned out Monday morning at a City Hall reception welcoming Steve Wayman as the city's new police chief.
Wayman, who received his chief's badge from his wife, Donna, to open the reception, thanked the assembled for their support.
Wayman, who has been on the force since 1990, received unanimous backing to become chief during a special meeting Thursday night of the Lansing City Council.
The council also accepted the resignation of Chief John Simmons, who has been named chief of the Fairway Police Department in suburban Kansas City.
The vote to hire Wayman, a captain on the force, came after council members met for 20 minutes in executive session with City Administrator Mike Smith.
"I'm very excited about Steve Wayman being hired as the new police chief," said Smith, himself a former Lansing Police chief and the person who originally hired Wayman for the force.
Smith said he "did not hesitate to recommend the hiring of Wayman" with the news of Simmons' departure.
"It would have taken four to six months to deal with the process of a search for a new police chief," Smith explained. "I like to hire from within if I have the opportunity, and we certainly had the opportunity here."
As with all new department heads hired by the city, Wayman will have to serve a year under probationary status. Smith said he expected the new chief to come through the period with flying colors.
"I have no doubt in my mind he's going to make it through," Smith said.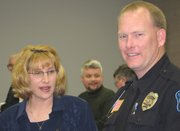 The new chief and Smith were to meet first thing this morning with the department's staff to talk about the change in leadership.
Wayman is intimately aware of the department's workings, having taken on a number of tasks in his 15 years there. He has held positions as a patrol officer, narcotics officer, detective, patrol sergeant, detective sergeant, lieutenant and captain. For a three-month period in 2003, he headed the department while Simmons was attending the FBI National Academy. Wayman also is emergency operations coordinator for the city.
Wayman grew up in Lansing and graduated from Lansing High School in 1986. He attended the University of Kansas and has an associate's degree from the Kansas City Kansas Community College in criminal justice. He is currently attending Baker University working toward a degree in business administration.
He is a 1991 graduate of the Kansas Law Enforcement Training Academy, became a Certified State Firearms Instructor in 1997, and attended the Kansas Police Administrators Seminar in 2003.
Smith said he had yet to negotiate a new salary for Wayman.
Simmons had been police chief since summer 2000 after retiring from the U.S. Army, where he had held a number of military police assignments, including provost marshal at Fort Leavenworth.