Retiree picks up teaching
Paul Dorsey loves his job as the English as a Second Language teacher for Lansing schools.
"My wife says I really get animated when I'm talking about the kids. It's neat," Dorsey said of his job. "I wish I'd discovered a job like this years ago."
Dorsey, a former fraud investigator with GE Capital Credit Services in Merriam, is in his second year as an ESL teacher, an experience he said he's found rewarding. The curriculum is mostly up to him, and he's broken down the process of teaching the students English into four basic areas: listening, speaking, reading and writing.
"I work on each of those four areas with the children, but I individualize everything," Dorsey said. "It's based completely on where the student is and what the students is doing."
His method of teaching involves books and games. There's a series called "Frog and Toad" by Arnold Lobel that he particularly likes to share with students. He said he also liked to work with Dr. Seuss books, flashcards and number facts, as well as a game called Who Are You? that involves students guessing various facial and identifying features of a mystery person.
Students under Dorsey's tutelage are mostly the children of foreign military members stationed at Fort Leavenworth. They work with Dorsey for one to two hours a day, depending on individual schedules.
"I work where it least interferes with their schedule or when they would normally be having language study anyway," Dorsey said. He works about six hours a day Mondays, Wednesdays and Fridays and about four hours on Tuesdays and Thursdays. He said he was still juggling the schedule but it would probably end up being about four hours every day. He is on a yearly contract that was renewed this year.
"I almost feel like the kids are my own grandkids," Dorsey said. "They do so well, and it's very rewarding. It's just so neat to be able to teach one-on-one."
Dorsey speaks Russian, Spanish and German, though he is strongest in Russian and has a graduate degree in the subject from the University of Kansas. He picked up the beginnings of Russian while in the United States Air Force.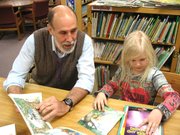 Dorsey also picked up German while stationed in Berlin. He later found out he picked it up with a Berlin accent, a situation he likens to speaking English with a Brooklyn accent.
It isn't just in the schools that Dorsey helps out - in addition to being a co-pastor at his church in Tonganoxie, he's the executive director of a nonprofit organization called Human Dignity and Peace, or DIGNITY, which was founded to respond to needs in Eastern Europe.
Dorsey has been to Russia three times. The first time, he went as part of a group with Heart to Heart, an Olathe-based humanitarian organization formed to help children affected by the Chernobyl meltdown.
Dorsey later visited twice through the Community of Christ based in Independence, Mo.
Dorsey grew up far from Russia but close to Lansing - he spent his childhood in Leavenworth. After high school, he went to Graceland University in Iowa but then left early to join the Air Force. After four years in service, he earned a bachelor's degree in Russian from Emporia State University.
He and his wife, Lilly, and their three sons, Michael, Frank and Robert, lived in Bonner Springs while the boys grew up. During that time Dorsey went back to school for his master's degree in Russian from KU.
Nine years ago, the Dorseys moved to Lansing.
Lilly Dorsey teaches third grade at Lansing Elementary School, and when the ESL position came up she suggested her husband apply. Paul Dorsey, who had spent most of his career working for GE Capital Credit, retired several years ago to work with his church's aid to Russia. When the grant money ran out a little earlier than expected, he was looking for a part-time job. The ESL position seemed perfect, he said.
In his two years at this job, Dorsey has worked with children from Belgium, Sweden, Denmark and the Ukraine.