Terrill pushes others to improve
Lone senior has been 'good competitor' for Civils
The Lansing High wrestling team will pull an all-nighter starting at 5:30 p.m. today when the Lions play host to a triple-dual at the LHS gym.
It's the Lions' senior night, and lone senior Jon Terrill will be on hand for the more than five-hour meet.
Terrill will be recognized alongside four-year team manager Michaelah Wilson for their contributions to the program. Terrill will be dressed in his red and black warm-up suit. He'll cheer his lungs out for his teammates as they grapple with Tonganoxie, Mill Valley and Bonner Springs.
He won't wrestle, though. He can't. He strained a tendon in his leg during practice last week while wrestling a teammate. He still must sit out another 10 days - doctor's orders.
"I've got at least a week-and-a-half to sit out," Terrill said. "After that I'm looking to go hard, and if nothing else, help prepare the guys to get on to the Kaw Valley League meet and beyond."
In reality, putting the team first has been Terrill's focus most of the year. After transferring to LHS this year from Fulton, Mo., he's been Lansing's No. 2 wrestler at 189 pounds behind junior Ryan Civils. The two have had a wrestle-off for the varsity spot each week, but Civils has won each time.
"He's a heck of a wrestler," Terrill said of Civils. "He does get the best of me, but as we've been going on we're getting closer, and I'd like to think I'm getting better."
Civils said there's no question Terrill has improved. In fact, Civils attributed his 25-4 record to how hard Terrill has pushed him in practice.
"He pushes me harder and harder," Civils said. "It inspires me that he's still going after I beat him every time. It shows a lot of heart to go after it each week. He just fights hard each week. He's a good competitor."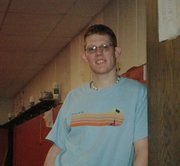 Lansing coach Ron Averill praised Terrill's commitment to the team and his work ethic throughout the season.
"I've just been encouraged by the way he's been sticking with it," Averill said. "As a result, the team has someone else we can depend on if we have an opening that needs to be filled."
Once wrestling is finished, Terrill will move on to his favorite sport - baseball..
""I'm just looking forward to being in shape and basically winning my position on the baseball field by being in that wrestling room every day," Terrill said. "I'm looking forward to moving on to that and hopefully succeeding a little more there."