Patton Junior High student wins county-wide spelling bee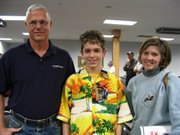 For the third year in a row Patton Junior High School student Zachary O'Bea won the Leavenworth County spelling bee.
O'Bea will continue to the state-level competition at 8:30 a.m. on March 26 in the Garvey Fine Arts Center, 17th and Jewel, on the Washburn University campus.
O'Bea received a $100 savings bond from the Leavenworth Times.
Lansing Middle School students Marita Meyer and Chelsea Harrington came in second and third places respectively. Meyer received a $50 savings bond from the Leavenworth Area Retired School Personnel Association and Harrington received a dictionary.
The final nine contestants received medallions and all participants received gift packets that included restaurant coupons, pens, pencils and notepads.