Inmates' rehabilitation includes daily jobs in city departments
The words "correctional facility" don't have many mainstream positive associations. In Lansing, the situation is different. The correctional facility is a cornerstone of the local economy, but it also serves as a source of community service and savings.
Throughout the year, inmates can be seen trimming roadside lawns and shoveling city streets. But those aren't the only inmates who get brief reprieves for work outside the prison walls.
City employees in the wastewater treatment facility, parks division and streets division work with six minimum security inmates five days a week.
There are two inmates per division, and all are supervised at work by city employees, not prison employees. The six inmates are picked up at the prison in the morning by the city and dropped off in the evening.
It's an arrangement that's worked out well, City Administrator Mike Smith said.
"They get to learn a trade," Smith said of the inmates. "At the same time, we get the benefit of saving the taxpayers money. They do a lot of things that we couldn't do with the budget we have now. It helps both groups."
Brett Peterson, spokesman for Lansing Correctional Facility, said the inmates who work directly with the city of Lansing put in a total of 12,376 hours in 2004, a minimum wage equivalent of $63,736.40.
Smith said if the city were to hire those positions the salary would be closer to $7.79 an hour, possibly more, and certainly not minimum wage.
Inmates in the Leavenworth County crew, whose work includes weekly maintaining areas by work such as clearing brush and removing trees, worked 10,052 hours in 2004, a minimum wage equivalent of $51,767.80. These crews also worked on the Delaware Fire Station performing snow and ice removal and general grounds maintenance and on year-round maintenance of Kansas Highway 7.
In addition to the six inmates who work directly with Lansing employees and the Leavenworth County crews, there are inmates who work with the school district to assemble playground equipment, paint the inside and outsides of facilities and clean the football field after home games. Peterson said this crew worked 13,448 hours in 2004, or a minimum wage equivalent of $69,257.20.
Every year, Lansing employees gather in the city's community center while Smith and parks director Jason Crum grill in the back. Lansing crew inmates also are invited.
"It's a big turnout," Smith said. "(The inmates) do an excellent job for us."
John Young, Lansing Public Works director, said the city relied heavily on the work Lansing crew inmates performed. He said city staff underwent training every year related to the supervision of inmates.
Anthony Zell, wastewater utility director, said he was pleased with the work the two inmates in his department did.
"They work down here Monday through Friday, right alongside us and cleaning, mopping, helping us work on various pieces of equipment," Zell said. "They do preventative maintenance and emergency repairs as needed."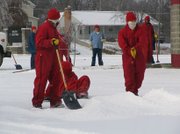 He said the inmates received the same holidays and worked the same hours as his regular employees.
"The guys that come down put their heart and soul in it because they're preparing to be released in normal life," Zell said. "Coming down here and doing a good job is a lot easier than spending another day in prison. They work real hard to produce a quality product, and they're good workers."
Peterson said the inmates chosen for the Lansing crew went through a rigorous selection process. Those with any history of sexually motivated crimes or any criminal activity involving children are immediately weeded out.
"It's a very restricted group of people," Peterson said.