Jackson, Collins finding their niche
Five juniors make up the starting lineup for the Lansing High boys' basketball team, but two sophomores are sharing duties as the squad's sixth-man.
Sophomores Jeff Jackson and Jeff Collins have been LHS coach Don Allen's first options off the bench all season. As the season has gone on, however, the Lions have slipped into a three-game losing streak and the two have been called upon even more to shorten their learning curve and find ways to contribute right away.
When starting post players Jeff Slater and David Kern pick up early fouls, Jackson is thrown into the fire. When one of the guards struggles with turnovers, it's Collins who gets the nod to play.
Allen said the sophomores' main job is to play solid defense. So far, he said, they've made good progress and found ways to help the team.
"Up to this point we've just been asking them to focus primarily on defense and try to put them into situations where they don't have to make a lot of decisions," Allen said. "(Running the offense) shouldn't be their job. They should be able to go out and give us a couple minutes of hard defense and offensively just stay within the offense."
To limit the amount of pressure Jackson and Collins must deal with on offense, Allen has given both some restrictions.
Collins is asked to play tenacious defense and pass the ball to open teammates on offense rather than trying to create his own shot.
"They told me they'd rather have me pass the ball than shoot it," Collins said. "I understand that. I'm not quite the offensive threat that the other guys are. I'm there for defense. They just want me there to pass it and help get the other guys open."
Jackson has the tougher task of battling with opponents' big guys. He's been asked to play physical defense and grab rebounds. Dribbling, however, usually if off-limits.
"I can't dribble it in certain situations, and I can't pass it inbounds anymore because I stepped over the line," Jackson said.
Both said the adjustment to the varsity level has been tough at times, and they've felt added pressure to perform well and not make mistakes.
"It's been kind of tough," Jackson admitted of the pressure to perform. "I feel a lot of pressure because sometimes it feels like everybody is coming down on me. It gets kind of frustrating sometimes, but it's just a learning experience this year."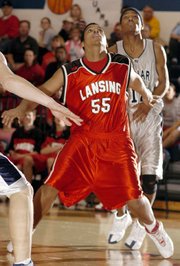 Collins said he has become less nervous as the season has gone on and he's spent more time on the court in varsity games.
"At the beginning of the year I was so nervous," Collins said. "I'm still nervous at these games a lot, but now when I get in there I don't even think about it any more. I just think about who I'm guarding, what I'm supposed to be doing, how I'm supposed to be running things. All the nervousness goes away and I just can't think about that."
Allen said he has been demanding of both sophomores, but he said he has been pleased with both as they've shown improvement throughout the season.
"Jeff Jackson, he's come in and had some moments there where he got some big boards for us and really played well in spots," Allen said. "It's the same way with Collins. He's come in and been able to spell us on the defensive end and done pretty well for us and done what we've asked him to do. It's just a matter of time. Sure, we expect some things out of them, but they shouldn't have to be in a position to go out and win a ballgame for us."