A year after she'd graduated, Lansing High School alumna Missy Runnebaum returned to LHS to watch her younger brother play basketball : and ended up watching the new coach instead. That Valentine's Day, she and the coach went on their first date.
"I would tell my mom and dad that I was going to marry the coach someday," she said. "So at Christmas in 1997 I sent him a Christmas card asking him to give me a call :. He did, and we went on our first date on Valentine's Day 1998. Valentine's is pretty special to us."
Missy married the coach, Don Allen, in 1999.
Now Missy Allen, the registrar at Lansing Middle School, she said her plans for Valentine's Day were in the hands of her husband, who still coaches LHS boys basketball and teaches science at the high school.
"I always tell him to not do the flower or candy thing but instead surprise me," she said.
There are 13 married couples working in Lansing's school district, and while that's usually viewed as an unlucky number, the couples who shared their stories of love in a school setting said they felt lucky to be so close to their spouses.
The story of 20-year Lansing employees Janie and Rick Hodam, like the Allens' romance, also credits the gym as a key part of their eventual amour.
Rick was the physical education teacher to Janie's sixth-grade class in Iowa.
"My class acted as Cupids, and we were engaged within a year," Janie said.
The couple plans to go to Famous Dave's for Valentine's Day.
Other married couples in the district also plan to celebrate with a romantic dinner. Ann Andrews, an LMS teacher and wife of district technology coordinator Jeff Andrews, said that was the couple's plan for Monday night.
They, too, have a story they don't mind sharing about the way they met. Jeff was on the interview committee when Ann interviewed for her job. After she'd left, he told the secretary in the office they had to hire Ann because he was going to marry her.
"He had another teacher ask me if I was seeing anyone and if I'd got out with him, and then he finally got up the nerve to ask me out," Ann recalled. "I was skeptical but went. I was hooked, and we got engaged just two weeks later. We didn't tell anyone for two months because we were sure everyone would think we were nuts. We flew to Las Vegas and got married six months after our first meeting."
Photo Gallery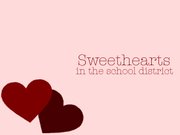 Sweethearts in the School District
While chalkboards and detention aren't always the most alluring of settings, the Lansing district couples have nevertheless retained the romance.
Stacey Jenkins, an LMS teacher, said the most romantic thing her husband Brooks, assistant principal of LMS, had done was to surprise her one Mother's Day with her bags packed for an overnight getaway and a babysitter to watch the kids. Brooks Jenkins said the most romantic thing his wife had done for him was to say "yes" when he asked her to marry him.
The Jenkinses, who met in Iowa in 1989, said their plans for Valentine's Day were a romantic dinner and then a movie.
Kristie Wessell, who works at LHS with her husband Dan, who teaches video and media, said she remembered one Valentine's Day when he sent her, through the computer, their wedding song.
Claudia Logue and Tracey Andrews of Lansing High School also said their husbands were more than capable of romantic gestures.
"The most romantic thing he has done is keep me supplied with gift cards from Home Depot so I can support my Do-It-Yourself habit," Logue said of her husband Errol, a social studies teacher and coach of the track and cross country teams at LHS.
Tracey Andrews had a more traditionally romantic tale of her 10th anniversary, when her husband Troy, who works at Lansing Intermediate School, bought her ten long-stemmed roses and placed a note on each one that described a different thing he loved about her.
"Each rose was then placed in strategic places around the house for me to find. I was sobbing by rose number two!" Tracey said.
She said for Valentine's Day this year she and Troy were going to ice skate in Kansas City with their children over the weekend.
On Monday, Valentine's Day proper, the couples of School District 469 will find it a little easier than most to drop in on their sweethearts and deliver a message of love.
Happy Valentine's Day to the district's couples: Don and Missy Allen, Jeff and Ann Andrews, Troy and Tracey Andrews, Paul and Lilly Dorsey, Rick and Janie Hodam, Brooks and Stacey Jenkins, Ed and Jan Jorgensen, George and Sue Kersten, Errol and Claudia Logue, Kevin and Kelly Riemann, Ryan and Andrea Rothmeyer, John and Mary Lee Wendel, and Dan and Kristie Wessell.